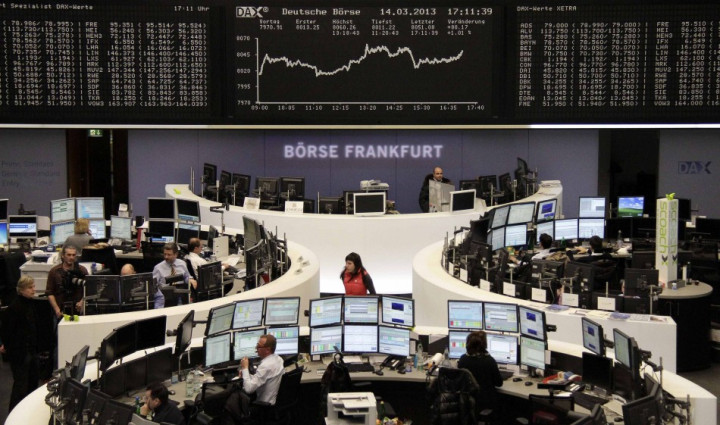 European shares edged lower in the opening minutes of trade after four straight days of gains, ahead of a two-day meeting of Europe's finance ministers in Ireland and the release of the eurozone's industrial output figures.
The pan-European STOXX Europe 600 Index opened down 0.3 percent at 294.2, while the UK's FTSE 100 fell 0.4 percent. France's CAC-40 and Germany's DAX were down 0.3 percent and 0.5 percent respectively.
In the UK, major data scheduled for release during the day include initial estimates of construction data for February, which would clarify whether the country's GDP rebounded in the first quarter. Earlier, non-seasonally adjusted January data showed a 6.3 percent decline in construction activities which indicated a poor start of activities in 2013.
As the cold weather in March is likely to lower output towards the end of the quarter, a sizable rebound is required in February to save the country from a triple-dip recession.
The investors are also concerned about the February industrial production numbers for Europe. Analysts expect the industrial output to rebound 0.1 percent in February after a 0.4 percent contraction last month.
Factory output data already released for France and Germany indicate that February euro area industrial production growth will be above analysts' expectations. However, even a stronger-than-expected rise is still likely to leave the output below the levels of late last year.
Two separate meetings of the Eurogroup of eurozone finance ministers and the wider group of Economics and Finance Ministers of the Member States, the ECOFIN Council, in Ireland are also on focus.
The Eurogroup will be discussing whether to ease conditions of bailout loan repayments by Ireland and Portugal. The meeting will also discuss Slovenia, Cyprus and eurozone banking reform.
Earlier, Cyprus confirmed that the cost of its EU-IMF bailout has surged to €23bn ($30bn/£20bn) from €17.5bn. Cypriot GDP is now projected to decline by 8.7 percent in 2013 and by 3.9 percent in 2014, compared to previous European Commission forecasts of a 3.5 percent and 1.3 percent drop.
In addition, Russia has lowered its economic growth forecast by a third to 2.4 percent, citing weaker-than- expected consumer demand, investments and exports.
Most Asian markets lost ground towards close as the yen strengthened against the dollar.
The Nikkei closed at 13,385.14, down 0.5 percent, while Australia's S&P/ASX 200 gained 0.2 percent to 5,017.7. South Korea's KOSPI closed at 1,924.23, down 1.31 percent.
Hong Kong's Hang Seng declined 0.2 percent to 22,065.5 towards close. In China, the Shanghai Composite index declined 0.4 percent at 2,211.3.
The US dollar declined almost 0.2 percent to 99.51 yen after reaching a four-year high of 99.95 yen on the previous day.