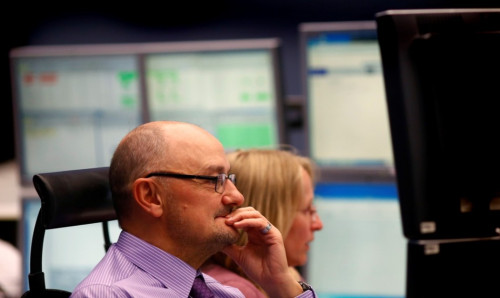 European markets opened lower on 17 December, and continued trading to the downside thereafter, as investors awaited the US Federal Reserve's last policy decision for 2013.
The Stoxx Europe 600 index opened 0.3% lower to 312.64.
Britain's FTSE 100 opened 0.4% lower.
France's CAC 40 opened 0.6% lower.
Germany's DAX opened 0.2% higher.
Spain's IBEX 35 was trading 0.60% lower after opening lower.
Italy's FTSE MIB was trading 0.51% lower after opening lower.
The Fed will announce its monetary policy decision on 18 December. The markets fear the world's most powerful central bank could reveal a reduction in its $85bn-a-month bond buying stimulus on Wednesday.
RBS said in a note to clients: "Worries about the sustainability of the US labour market gains are compounded by weak inflation, on both headline and core, and the uncertain impacts of the government shutdown on 4Q GDP growth."
"This leaves the risks still favouring a FOMC taper in March 2014, in our view. But it is abundantly clear that QE will be phased out at some point, and when that time comes the FOMC is likely to intensify efforts to anchor low policy rate expectations for yet longer."
"This is likely to include an enhancement of the Fed's forward guidance language to further reinforce that a tapering of asset purchase does not imply tightening of the Fed Funds rate will happen any sooner than implied by the Fed Funds rate forecasts."
"With the US 10-year rate approaching the early September highs, the impact of a taper announcement on US interest rates and the USD will likely not be as dramatic as when tapering was initially signalled in May," the Edinburgh based bank added.
Market players in Europe will be tracking November's inflation data coming in from the UK, released at 09:30GMT.
The eurozone's statistics office will release November's inflation numbers at 10:00GMT.
Market participants will also be tracking the widely followed German ZEW indicator of Economic Sentiment, expected at 10:00GMT.
In other news, German chancellor Angela Merkel would assume a third term in office later in the day, almost three months after winning federal elections. The Social Democrats joined Merkel to form a "grand coalition".
In Asia
The Japanese Nikkei finished 0.83% higher on 17 December. Australia's S&P/ASX finished 0.27% higher while South Korea's Kospi finished 0.23% higher
The Shanghai Composite finished 0.45% lower and Hong Kong's Hang Seng ended 0.20% lower.
Markets outside China traded higher as positive economic data from the US and Europe boosted investor sentiment.
However, gains across Asia were capped, ahead of an important US Federal Reserve policy decision due out this week.
Data from the US showed that factory output in November exceeded its prerecession peak for the first time, the latest signal suggesting America's economic recovery has gathered momentum.
Industrial production, which measures the output of US manufacturers, utilities and mines, jumped a seasonally adjusted 1.1% from the preceding month, the Federal Reserve said on 16 December. That November reading was the biggest jump in a year.
Earlier, private industry data showed that the long-awaited Eurozone recovery is "back on track".
Markit's flash composite Eurozone purchasing managers index (PMI) for December hit 52.1, up from November's 51.7 and rounding off the strongest quarter since the first half of 2011.
In Australia, the local currency rose after minutes of the Reserve Bank of Australia's 3 December policy meeting showed the central bank could cut interest rates again in 2014.
The Aussie remained "uncomfortably high and a lower level would likely be needed to achieve balanced growth in the economy," the minutes said.
On Wall Street
On Wall Street, indices ended higher on 16 December, ahead of the Fed decision.
The Dow finished 129.21 points, or 0.8%, higher at 15,884.57.
The S&P 500 ended 11.22 points, or 0.6%, higher at 1,786.54.
The Nasdaq closed 28.54 points, or 0.7%, higher at 4,029.52.
"The economy is on a roll, and tapering is not a concern for the market anymore. I've been calling for the Fed to take action this month, and I think they will, but this month or January is irrelevant at this point," said Peter Cardillo, chief market economist at Rockwell Global Capital.
"I don't expect them to do it by much, they don't want to shock the markets," Cardillo told CNBC.