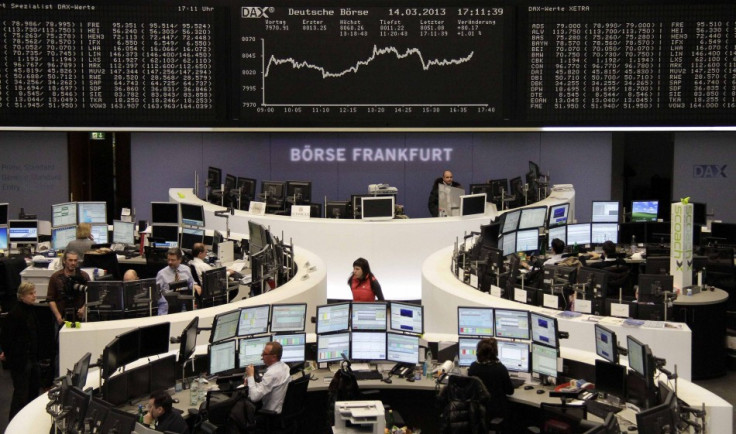 European shares opened higher amid expectations of continued growth-supportive monetary policies from the European Central Bank and the US Federal Reserve.
The pan-European FTSEurofirst 300 index rose 0.3% to 1,206.4 points. The UK's FTSE 100 gained 0.3%, while France's CAC-40 was up 0.4%.
Italy's main FTSE MIB and Spain's IBEX rose 0.5% each, and Germany's DAX added 0.7%.
In the UK, a survey by researchers GfK NOP showed that consumer confidence declined unexpectedly in March on concerns about personal finances amid rising inflation. The Bank of England is due to release its data on M4 money supply, mortgage approvals and personal lending.
Elsewhere in Europe, the formation of a coalition government under Prime Minister Enrico Letta in Italy, ending a two-month long political impasse in the country bolstered investor risk appetite.
Following the formation of the new government, Italy's five- and 10-year borrowing costs declined to their lowest level since October 2010 at a bond sale. Letta, who won in the first vote of confidence in Parliament on Monday, also hinted a policy change to shift focus from austerity measures to economic growth.
The ECB is expected to cut the euro zone's main interest rate by 25 basis points at its meeting on 2 May, given the worsening conditions in the European economy.
Major European data to be released during the day include German consumer confidence and unemployment figures, French consumer spending, Spanish first-quarter GDP and eurozone unemployment rate and consumer price index.
In the US, consumer spending rose unexpectedly in March and a private survey showed that signed contracts to buy previously owned homes rose 1.5 percent last month to the highest level since April 2010.
Given the positive data, the Federal Reserve may consider renewing its commitment to bond-buying at its two-day meeting.
Belgian brewer Inbev, French electricity company EDF, German carmaker Audi, Swiss bank UBS and Spanish bank Banco Popular are due to release their first-quarter earnings.
In Asian markets, Japanese shares fell on weak industrial production and retail sales data, while the rest of Asia's equity markets rose to fresh peaks on hopes of central bank stimulus.
The Nikkei had closed at 13,860.8, down 0.2%, while South Korea's KOSPI closed at 1,964, up 1.2%. Australia's S&P/ASX 200 rose 1.3% to 5,191.9 at closing.
Hong Kong's Hang Seng gained 0.6% to 22,744.8 towards close. The Chinese stock market remain closed until Thursday.