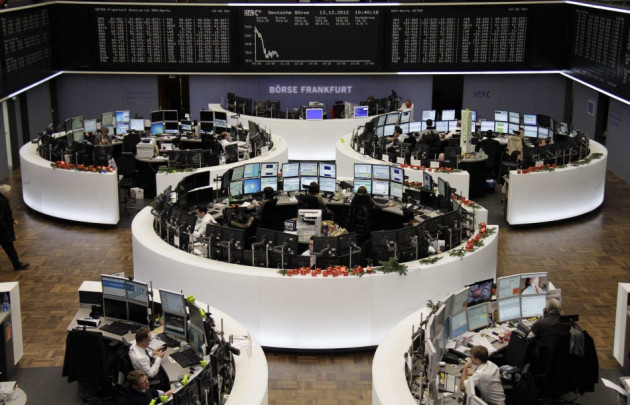 European stocks remained mixed in the opening minutes of trade as traders pondered the implications of a possible budget talks failure.
The FTSEurofirst 300 share index rose 0.02 percent to 1,137.88 while Britain's FTSE 100 gained 0.1 percent.
In France, CAC-40 gained 0.05 percent while Italy's FTSE MIB rose 0.3 percent. In Spain, IBEX fell 0.1 percent. Germany's DAX slipped 0.04 percent.
The single currency picked up against the greenback, trading around $1.32 percent.
Asian markets had rallied earlier with the Japanese benchmark index surging to fresh 2012 highs on stimulus optimism as the newly elected Shinzo Abe-led government looked to boost Japan's lagging economy.
The Nikkei stock average climbed 0.7 percent to 10395.18 while South Korea's KOSPI rose 0.49 percent to 1997.05. In Hong Kong, the Hang Seng gained 0.13 percent to 22648.15 towards close. China's Shanghai Composite Index ended 1.24 percent higher to 2233.25.
Despite the upbeat sentiments, Asian investors remained cautious on developments on the US 'fiscal cliff' front as lawmakers struggle to reach a consensus before the year-end deadline. President Barack Obama, who returned to Washington cutting short his vacation, is set to meet congressional leaders at White House later in the day.
The House is also set to meet over the weekend for a last-minute scramble to reach a solution and Washington looks all set to end the year in extended wrangling over the numbers. Some lawmakers suggest that that the hurried efforts in the final hour are just meant to ensure that the blame falls on the other party.
Japanese traders continued to remain upbeat as the Yen dropped to more than two-year depths against the Dollar, pushing the Nikkei to close with most gains since 2005. The newly elected government, under the leadership of Shinzo Abe has maintained economic recovery as its major priority.
"Abe has already proposed radical monetary easing, including the introduction of a 2 percent inflation target, as well as economic stimulus in a ¥10trn supplementary FY12 budget," noted analysts at Nomura Research.
"In response to strong pressure from the new administration, the Bank of Japan has indicated its intention to consider setting an inflation target at its January policy meeting".
The Japanese economy has remained weak in the recent past, hurt by weak external demand and stubborn deflation. Official data released early in the day showed that the country's industrial output dropped 1.7 percent in November and core consumer prices eased 0.1 percent.