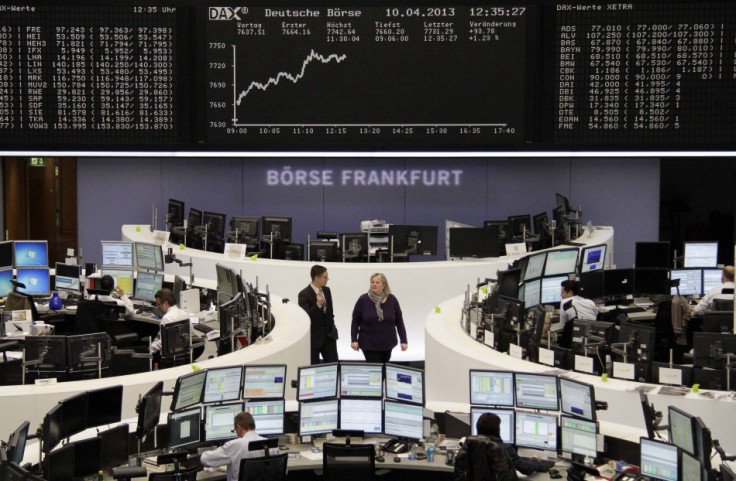 European shares declined in the opening minutes of trade ahead of first-quarter gross domestic product data from the US.
The pan-European FTSEurofirst 300 index fell 0.3% to 1,197.04 points in early trade. The UK's FTSE 100 fell 0.2%, while France's CAC-40 slid 0.5%.
Spain's IBEX, Italy's main FTSE MIB declined 0.5 % and 0.3%, respectively, while Germany's DAX remain little changed.
The UK has reported a stronger-than-expected GDP growth for the first quarter, avoiding the so-called "triple-dip" recession. The economy grew 0.3% in the quarter, beating economists' expectations for growth of 0.1%.
"The upshot is that we do not think Thursday's data mark a watershed in the prospects for UK monetary policy or the onset of a significant appreciation in the value of the pound," said John Higgins, economist at Capital Economics.
The investors will now turn their attention to the US, which is due to report its first-quarter GDP data at 13:30 BST. Economists expect the world's largest economy to grow by 3% in the first quarter, significantly higher than the 0.4% growth in the fourth quarter of 2012.
In Spain, the government is expected to unveil new economic growth measures, inflaming debate on the ongoing austerity measures in Europe. Prime Minister Mariano Rajoy has been persuading the EU to reduce its fiscal deficit targets for the year.
Earlier, Spain reported a record unemployment rate of 27.2%, prompting widespread protests in the country.
France-based oil company Total and telecoms company Alcatel Lucent, Germany's chemical firm BASF and Spanish bank BBVA are due to report their first-quarter results on Friday.
Most Asian markets declined after the Bank of Japan (BoJ) did not reveal any new policy moves in its latest meeting.
The Japanese central bank said only that it will conduct money-market operations to increase the monetary base at an annual pace of about 60-70tn yen ($610-710bn).
The yen rose modestly after the announcement, with the dollar declining to 98.55 yen from 99.06 yen ahead of the statement.
The Nikkei had closed at 13,884.1, down 0.3%, and South Korea's KOSPI closed at 1,944.6, down 0.4 %. Australia' S&P/ASX 200 shed 0.3% to 5,100.7 at closing.
Hong Kong's Hang Seng gained 0.8% to 22,580.4 towards close. In China, the Shanghai Composite index declined 0.4 % to 2,189.6.