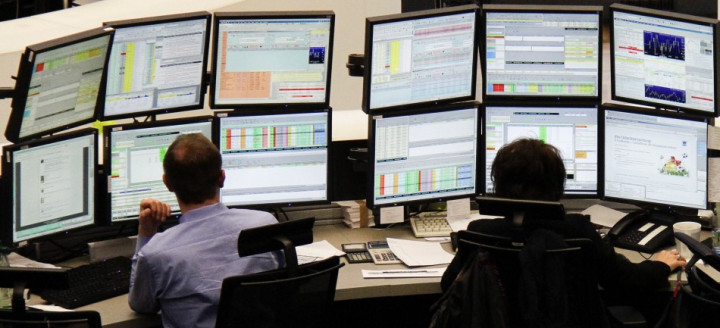 European stocks posted a mixed response in the opening minutes of trade ahead of the UK's release of its first-quarter gross domestic product growth data that will confirm whether the country has entered a "triple-dip recession" or not.
The pan-European FTSEurofirst 300 index fell 0.1 percent to1,190.8 points in early trade. The UK's FTSE 100 rose 0.2 percent, while France's CAC-40 slid 0.2 percent.
Spain's IBEX, Italy's main FTSE MIB declined 0.3 percent and 0.04 percent, respectively, while Germany's DAX gained 0.1 percent.
Britain is scheduled to release its first-quarter GDP data at 9.30 am. A contraction in the economy in the first three months of the year would mean that it has entered the so-called "triple-dip recession".
Nevertheless, analysts widely expect that the country has marginally escaped the situation with a growth rate of 0.1 percent in the quarter.
Modifications to the Funding for Lending Scheme extended the scheme by a year and improved credit conditions for small and medium-sized enterprises. Nevertheless, analysts expect only a marginal improvement in the overall lending outlook with banks remain undercapitalised and the demand for credit remains weak.
Italy's political deadlock seemed to be over as President Giorgio Napolitano gave the deputy head of the centre-left Democratic Party (PD), Enrico Letta, a mandate to form the government.
The German Ifo business climate indicator showed that sentiment has fallen in April, adding to concerns that recovery in the country is faltering.
Major economic events happening overnight include the US jobless claims report and the Bank of Japan policy meeting.
Denmark-based Novozymes A/S, France-based Dassault Systemes, Irish airline Aer Lingus and Spanish banks Santander, CaixaBank, Sabadell and Ferrovial are due to report their first-quarter sales during the day.
Carmakers Saab and Volvo, digital firm Logitech, electronics maker Electrolux, pharmaceutical firms Bayer and AstraZenica, Dutch consulting firm Randstad Holding and consumer goods firm Unilever will also report their earnings.
Asian stocks have gained earlier as South Korea reported a better-than-expected growth data for the first quarter.
The Nikkei had closed at 13,926.1, up 0.6 percent, while South Korea's KOSPI closed at 1,951.6, up 0.8 percent.
Hong Kong's Hang Seng gained 1 percent to 22,402.5 towards close. In China, the Shanghai Composite index declined 0.3 percent to 2,210.7.
South Korea's economy grew the most in two years in the first quarter, expanding 0.9 percent from 0.3 percent in the fourth quarter. On a year-over-year basis, GDP growth rate was unchanged at 1.5 percent. Analysts expected a 0.7 percent quarterly and a 1.4 percent year-on-year growth.
During the quarter, Korea's exports improved by 3.2 percent and imports rose by 2.5 percent, with petrochemical products boosting growth in both exports and imports.
Investors across the globe are expecting that a recent string of weak economic data, especially from China and Europe, would prompt central banks to keep or increase their monetary stimulus measures to encourage growth.
The US government is scheduled to report its first-quarter GDP on Friday. The world's largest economy is widely expected to post significant rebound from the fourth quarter, when it recorded an annual growth of 0.4 percent.