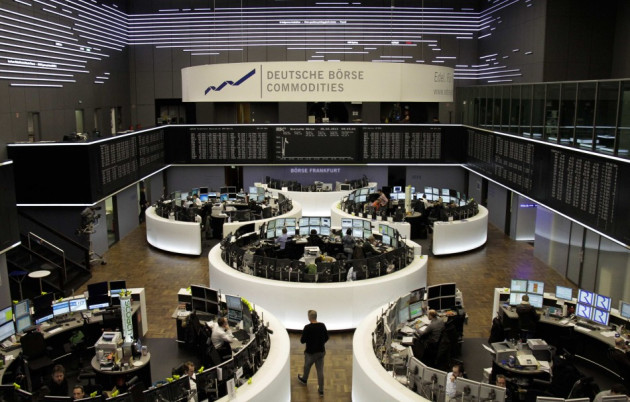 European markets rose in the opening minutes of trade as many investors tried to hunt for value after a sharp sell-off in the previous four sessions, despite concerns about global economic growth and political uncertainty in Italy.
The pan-European FTSEurofirst 300 index gained 0.2 percent to 1,149.9 points in early trade, while the UK's FTSE 100 rose 0.2 percent. France's CAC-40 was up 0.5 percent.
Spain's IBEX rose 0.5 percent and Italy's FTSE MIB gained 0.6 percent, while Germany's DAX advanced 0.2 percent.
Italy's parliament is due to vote to elect a new president to replace Giorgio Napolitano, whose mandate expires on 15 May. Given the political deadlock in the country, the identity of the next president is unlikely to emerge soon as a two-thirds majority is needed to win in any of the first three rounds of voting.
In addition, Germany's central bank Bundestag is scheduled to vote on whether to ratify financial aid for Cyprus.
Major economic data scheduled for release include British retail sales, the monthly German Ifo business climate index and Spain's short-term government bond auction.
France-based firms Carrefour, Sodexo and L'Oreal and Swiss firms Nestle and Syngenta are due to report first-quarter sales. London-based miner African Barrick Gold will report first-quarter earnings and drinks firm Diageo is set to release its trade figures.
Earlier, European Central Bank (ECB) Governing Council member and Bundesbank President Jens Weidmann hinted at an interest rate cut in the eurozone. The ECB would lower interest rates further, given the economic data is positive, Weidmann told the Wall Street Journal.
Also, the G20 finance ministers and central bankers are meeting in Washington on Thursday. The group is expected to strengthen measures to avoid competitive currency devaluations.
In Asia stocks declined, led by mining shares, due to lower commodity prices as concerns about sluggish global economic growth dented investor sentiment.
The Nikkei had earlier closed at 13,220.1, down 1.2 percent, while Australia's S&P/ASX 200 declined 1.6 percent at 4,924.4. South Korea's KOSPI closed at 1,900.1, down 1.2 percent.
Hong Kong's Hang Seng fell 0.1 percent to 21,541.2 towards close. In China, the Shanghai Composite index rose 0.2 percent to 2,198.2.
The prices of commodities, including oil, gold, silver and copper remained lower. A 10 percent decline in European car registrations weighed on copper prices that slumped more than 3 percent. Copper futures dropped by most in a year, hitting the shares of raw-material producers.
Further, oil prices declined on fears that rising US fuel supplies would dent global oil demand. Meanwhile gold prices remained vulnerable, declining 0.2 percent at $1,373.51 an ounce in early trade.
Japanese stocks fell after the yen advanced against the US dollar for the first time in three days, while China gained on a 5.65 percent increase in foreign direct investment in the country.