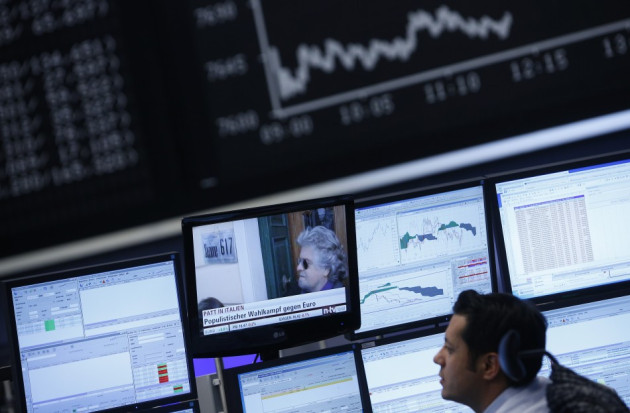 European markets opened lower following subdued sentiments in the Asian markets as well as a lower Wall Street closing overnight, after the US Federal Reserve hinted it could end bond-buying this summer.
The pan-European FTSEurofirst 300 slid 0.2% to 1,243.28 in early deals. The UK's FTSE 100 remained little changed, while France's CAC 40 and Germany's DAX fell 0.2% each. Spain's IBEX was down 0.1% and Italy's FTSE MIB lost 0.5%.
In Europe, German lawmakers are debating draft banking legislation ahead of the summer recess, in six weeks. Measures being debated include the transfer of national bank supervision to the ECB.
In Italy, the future of the present government is still uncertain as Beppe Grillo, the leader of an anti-establishment Five Stars Movement, said that he expects the current government to fall within four months.
Grillo, whose party contested elections for the first time in February, said he was confident it would win the next election. The eurozone's third biggest economy has been in recession for seven straight quarters.
European investors will be closely watching Canadian CPI and wholesale sales data due later in the day, and will be following The University of Michigan Consumer Sentinment Index, coming in from the US, which rates the relative level of current and future US economic conditions.
Companies reporting earnings during the day include Danish shipping major A.P.Moeller-Maersk. British oil and gas facilities service provider Petrofac's interim management statement will be out today.
Earlier in the day, Asian markets posted marginal losses after Wall Street shares dropped on concerns that the US Federal Reserve will begin slowing its bond-buying programme in the coming months.
On Wall Street, the S&P 500 was down 0.5% after the Fed said a possible roll back of the bond-buying programme could happen as early as this summer, allowing the greenback to gain against major currencies.
Data from the US showed that weekly jobless claims shot up by 32,000 to 360,000, while housing starts dropped below expectations to 16.5% in April or an 853,000-unit annual rate.