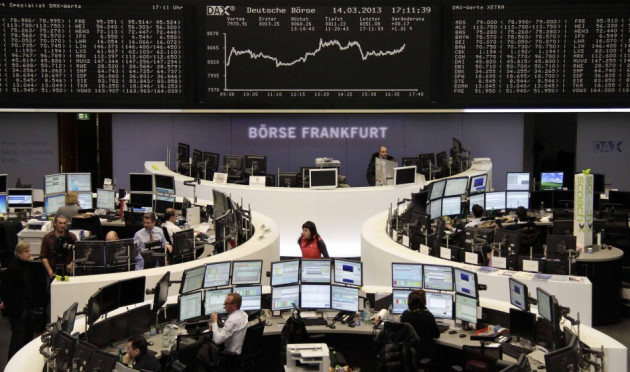 European markets gained in the opening minutes of trade, indicating a recovery from days of sharp losses as investors closely watch the G20 meeting and the outcome of Italian presidential election.
The pan-European FTSEurofirst 300 index gained 0.4 percent to 1,151.84 points in early trade. The UK's FTSE 100 rose 0.4 percent and France's CAC-40 was up 0.8 percent.
Spain's IBEX rose 0.9 percent and Italy's FTSE MIB surged 1.1 percent, while Germany's DAX advanced 0.2 percent.
Earlier, the UK retail sales for March showed a drop in sales by 0.7 percent from February as slower salary growth and inflation continued to impact household income and spending.
In Italy, two votes by lawmakers failed to produce a two thirds majority for centre-left candidate, Franco Marini. He was rejected by rebels from Pier Luigi Bersani's center-left Democratic Party.
Meanwhile, the G20 finance ministers and central bankers are continuing their meeting in Washington. Earlier, they have agreed to refrain from commenting on Japan's monetary policy. The US dollar is currently trading at 98.56 yen, up 0.4 percent.
Japan's aggressive monetary policies have led to a share devaluation of its currency, prompting the US and European authorities to warn the country of currency manipulation. During the meeting, Japan's finance minister Taro Aso insisted that the country is aiming at beating deflation with its bold monetary easing measures.
In the US, the International Monetary Fund's (IMF) and the World Bank's spring meetings are taking place this weekend. The IMF has earlier projected global economic growth almost in line with its previous outlook.
Asian stocks reversed its earlier losses led by commodity stocks, which have experienced their worst weekly decline since August.
The Nikkei had closed at 13,316.5, up 7 percent, while Australia's S&P/ASX 200 rose 0.2 percent at 4,931.9. South Korea's KOSPI closed at 1,906.8, down 0.3 percent.
Hong Kong's Hang Seng gained 1.5 percent to 21,842.9 towards close. In China, the Shanghai Composite index rose 2.2 percent to 2,246.6.
The Australian market rebounded, with miners and energy firms recording a sharp rise in share prices as most commodity prices increased overnight. Hong Kong stocks gained after five consecutive sessions of declines, led by Lenovo shares that jumped on reports that the company is in talks to IBM's computer server business.