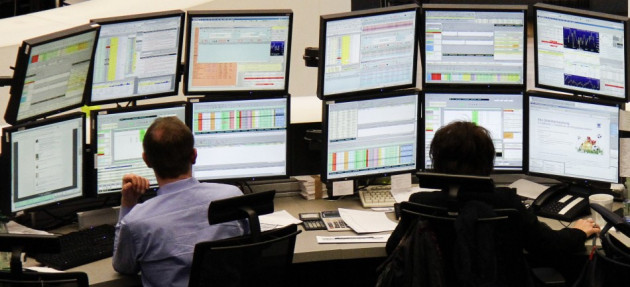 European markets posted a mixed response in the opening minutes of trade as investors await the release of the US non-farm payrolls data, a key indicator of hiring in the country.
The pan-European FTSEurofirst 300 index fell nearly 0.4% to 1,206.15 points. The UK's FTSE 100 remain little changed while France's CAC-40 rose 0.2%.
Italy's main FTSE MIB gained 0.3% and Spain's IBEX added 0.5%. Germany's DAX gained 0.1%.
The US non-farm payrolls report due for release later on Friday is particularly important in the context of the Federal Open Markets Committee's reiterated commitment, tying the low range for the Fed Funds rate to unemployment rate of 6.5%.
Analysts polled by Bloomberg expect the US payrolls to increase by 140,000 workers after an 88,000 gain in March.
Other data due for release in the US include March factory orders, April average earnings, and the ISM non-manufacturing index.
In the UK, the services sector PMI slated for release is expected show that the sector expanded at a faster pace in April. The European Commission is due to publish its spring economic forecasts for GDP on Friday, along with predictions on inflation, employment and public finances among others.
Earlier, the European Central Bank cut its benchmark interest rate by 25 basis points to 0.5% as widely expected by analysts. Further, the ECB president Mario Draghi said that the euro area's monetary policy is "extraordinarily accommodative" and the central bank will act further if needed.
After the ECB decision, the euro rose against the dollar, and is currently trading at $1.3074, up 0.07%.
"The ECB's decision to cut interest rates should provide troubled banks in the region's periphery with some much needed support," said Jennifer McKeown, analysts at Capital Economics.
"But it will not be enough to drag the euro-zone out of recession on its own and bolder plans to boost lending to small and medium-sized enterprises seem to be in their infant stages to say the least."
Further, the number of Americans filing for new jobless benefits claims declined sharply last week to its lowest level since the early days of global economic recession.
On revived optimism about the global economic recovery, South Korea's KOSPI closed at 1,965.7, up 0.4%. Australia's S&P/ASX 200 rose 0.01% to 5,130.6 at closing. Japanese markets were closed on Friday for a public holiday.
Hong Kong's Hang Seng gained 0.3% to 22,725.6 towards close. The Shanghai Composite was up 1.45% to 2,205.7.