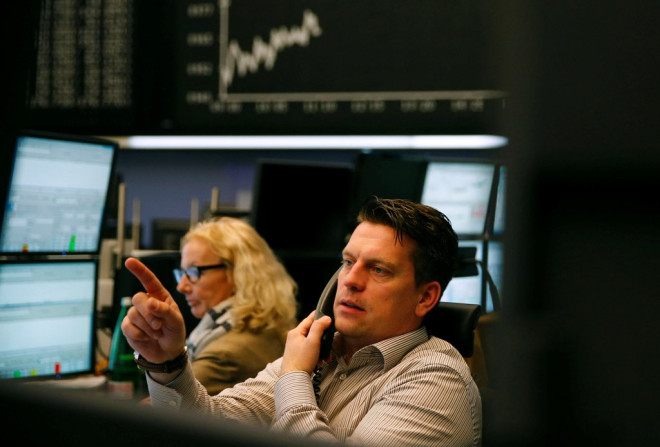 European stocks opened higher and continued trading higher, repairing some of yesterday's heavy losses, on news that Russia has ordered troops involved in military exercises at the border of Ukraine to return to base.
The troop withdrawal raised hopes about a peaceful solution to the Ukraine crisis.
The Stoxx Europe 600 index opened 0.8% higher to 333.10.
Britain's FTSE 100 opened 0.9% higher.
France's CAC 40 opened 1.2% higher.
Germany's DAX 30 opened 1% higher.
Spain's IBEX 35 was trading 1% higher after opening higher.
Italy's FTSE MIB was trading 1.63% higher after opening higher.
Russia's MICEX index was trading 4.19% higher after opening 5% higher. The Russian bourse lost some $60bn in market capitalisation on 3 March, ending the session 11% lower, its worst drop in five years.
The recent Russian military exercises had taken place on the borders of Ukraine but were not linked to instability in the country, according to Moscow.
However, Russian troops have tightened their grip on Crimea and pro-Russia upheaval has spread to several other parts of eastern Ukraine, with Moscow-backed demonstrators entering government buildings.
Credit Agricole CIB said in a note to clients: "So far most of the damage from the escalating crisis in the Ukraine and growing tensions between the West and Russia has been inflicted on Russian markets but global asset markets are also feeling increasing pain from the fallout. The most recent developments highlight that tensions have worsened further. Equity markets in Europe were next in line for selling pressure, with sharp declines registered while US stock also dropped, but to a lesser degree.
"Commodity prices have also felt the shock, with European natural gas prices rising sharply and oil also higher. Gold has been a major beneficiary extending gains to around $1350. US Treasury yields settled around 2.6% while the USD bounced as risk aversion spiked."
"[Our] Risk Aversion Barometer rose over 3% while the VIX "fear gauge" jumped. Asian markets are likely to feel the pressure today although the impact is likely to be less significant than elsewhere. Nonetheless, the lack of first tier data releases means that most attention will be focussed on developments in Ukraine over today's trading session," Credit Agricole added.
In London, mining giant Glencore Xstrata's stock were trading 2.53% higher at 09:59GMT after the firm reported better than forecast earnings.
Earlier, Russian firms MegaFon, Gazprom and VTB Bank saw their shares jump on 4 March after reports about Russian troop withdrawals. European firms with a heavy exposure to Russia, such as Carlsberg, Societe Generale and Raiffeisen Bank, also gained.
In Asia
India's BSE Sensex was trading 1.21% higher on 4 March.
The Japanese Nikkei 225 finished 0.47% higher while South Korea's Kospi finished 0.54% lower.
Hong Kong's Hang Seng ended 0.70% higher while the Shanghai Composite closed 0.18% lower.
The Australian ASX ended 0.30% higher.
A bulk of all Asian stock markets traded higher on Tuesday, Russian president Vladimir Putin had ordered some of his troops to return to base.
Asian investors also exercised caution ahead of China's National People's Congress on 5 March.
"At this point, there is little reason for people to be too active in the market. There's the Ukraine situation and some have positioned for the meetings in China, in anticipation of supportive policies," Jackson Wong, vice president for equity sales at Tanrich Securities told Reuters.
Standard Chartered said in a note to clients: "Stay Neutral on EM bond risk. We recently turned Neutral from Negative on better flows and fundamentals. We do not think Ukraine tensions will extend significantly into further downside for EM assets in Asia, in our base case."
In Shanghai, real estate firm Vanke added 4% on news that it now has regulatory approval to move its B-share listing to Hong Kong, more than a year after the plan was tabled.
In Tokyo, a weaker yen supported exporters' stocks. Panasonic added 2.3% while e-commerce firm Rakuten gained some 3%.
In Sydney, gold miners Kingsgate and Evolution Mining lost 4% and 2% respectively. Rival Alacer Gold added 2.4%.
AGL Energy shed some 3% on news that the Australian Competition and Consumer Commission blocked the state government's plan to sell Macquarie Generation to the company over competition concerns.
In Seoul, steel-maker Posco lost 2.1% on concerns that a slowdown in China would hit steel demand and the firm's earnings.
Wall Street Down
On Wall Street, indices ended lower on 3 March as fears about Russian intervention in the Ukraine compelled market players to exit assets believed to be risky.
The focus on the Ukraine had investors overlooking a rebound in US manufacturing activity in February, from an eight-month low. The Institute for Supply Management (ISM) said its index of US factory activity rose to 53.2 in February, up from January's reading of 51.3.
Investors also overlooked upbeat consumer spending data. Data from the US Commerce Department showed that national consumer spending rose more than forecast in January, with household purchases up 0.4% from a tiny 0.1% gain in the preceding month.
The Dow finished 153.68 points, or 0.94%, lower at 16,168.03.
The S&P 500 ended 13.72 points, or 0.74%, lower, at 1,845.73.
The Nasdaq closed 30.82 points, or 0.72%, lower at 4,277.30.