Ousted president Yanukovich asked Russia to send troops into Ukraine, Moscow has claimed.
Russian military drill near Ukraine's border ends, troops return to their bases.
US Secretary of State John Kerry has arrived in Kiev.
Surrender ultimatum deadline for Ukrainian troops in Crimea expires without incident.
Tensions between Russian soldiers and Ukrainians reported at the Belbek air base Crimea, with warning shots being fired.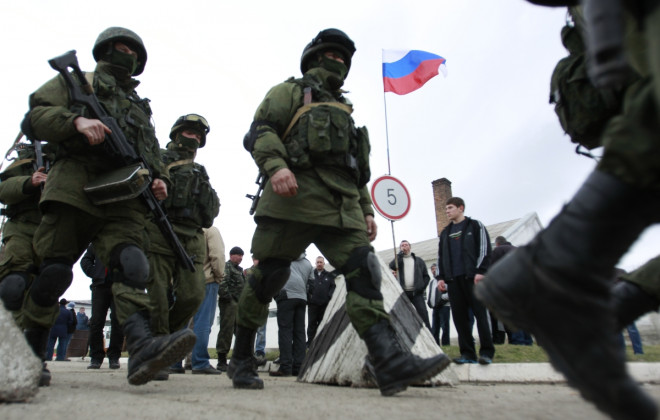 18:55 Our live coverage ends here. IBTimes UK will be back with fresh developments in the Ukraine tomorrow after a day in which Kerry arrived in Kiev for crucial talks, the 3am surrender ultimatum passed without incident and Nato met under Article IV of the Washington Treaty for only the fourth time in its history.
18:53 More from John Kerry after his meeting with Ukrainian interim president, Oleksander Turchynov.
18:41 Former chess grandmaster - and now political activist - Garry Kasparov has been tweeting about Putin's actions in the last few days.
18:35 John Kerry has tweeted a picture of his visit to the Shrine of the Fallen today.
18:22 EU foreign policy chief Catherine Ashton says she has had "useful talks" over the Ukraine crisis with Russian foreign minister Sergei Lavrov in Madrid today. Earlier in the day, Mr Lavrov told a news conference the threat of sanctions was "counter-productive".
18:18
18:11
18:07 "We believe the Ukrainian people should be able to decide their own future," President Obama has said in Washington.
18:00
17:50 US secretary of state John Kerry has been making remarks about Russia's occupation of Crimea after landing in Kiev today.
Kerry on Putin's Ukraine comments: "Not a single piece of creditable evidence supports any one of those claims."
Kerry on Eastern Ukraine: "Russia is working hard to create a pretext to be able to invade further"
Kerry: Russia has a "long history of connections" with Ukraine. "We get that but there's a better way for Russia to pursue legitimate interests."
17:00 Obama says there is still the opportunity for Russia, working with the international community, to stabilise the situation.
"We're prepared to make sure the rights of all Ukrainians are upheld," Obama says.
"The fact that we are still seeing soldiers out of their barracks in Crimea is an indication that what's happening there is not based on actual concern for Russian nationals or Russian speakers but Russian seeking to exert force on a neighbouring country."
16:58 About Putin's claim that the deployment of Russian troops in Ukraine would be in accordance to international law Obama said that the contrary is clear to everyone: "President Putin seems to have a different set of lawyers."
16:57 As Kerry was speaking in Kiev, Obama was addressing journalists in Washington.
16:55 Kerry's press conference is over.
16:54 "It is not appropriate to invade a country and dictate what you want to achieve," Kerry says.
16:49 "We are not looking for some major confrontation," Kerry says. "I do not believe that it is in [Putin's] interest which we understand a base, strong ties we get it."
"But those things can continue and be worked out," Kerry says.
16:48 Asked about Putin's claim that there are no Russian troops in Crimea Kerry says he was not aware of the claim.
"Did he really deny that?" Kerry asks.
16:46 "But if Russia does not choose this option, to work with the Ukrainian government, then our partners will have absolutely no choice but to join us to continue to expand the steps of recent days in order to isolate Russia diplomatically, politically and economically," Kerry says.
16:45 "I come here today at the instruction of President Obama to make clear the US would prefer to see this de-escalate the crisis managed through structures of international institutions in order to deal with this kind of crisis," Kerry says.
16:42 This is the 21st century and we should not see nation step back and behave in a 19th 20th century fashion, Kerry says.
16:41 Kerry praised the "brave Ukrainians" who "took to the streets to stand against tyranny and demand democracy, but instead they were met with snipers and picked off one after another."
16:40 US Secretary of State John Kerry is holding a press conference in Kiev
16:36 Here is a video of Nato Secretary General Anders Fogh Rasmussen reading a statement on Ukraine. If you want to read it yourself, scroll down.
16:18 US Secretary of State John Kerry tweeted:
16:17 Statement by Nato following meeting under article 4 of the Washington Treaty:
16:16 Here you can read our article on Russia Today (RT) anchor Abby Martin speaking out against the deployment of troops in Crimea. Scroll down at 9:02 for the video.
16:10 World Chess Champion and outspoken Kremlin critic Garry Kasparov tweeted:
15:56 UK Foreign Secretary William Hague has urged Russia to attend talks at a planned international summit in Paris on Thursday ready to de-escalate the Ukraine crisis.
The meeting, which was set to discuss the Lebanon, will include Hague and other EU leaders, US Secretary of State John Kerry and, it is hoped, Russia's Sergei Lavrov.
Read more here: Ukraine Crisis: Hague Urges Russia to Join Talks and Save European Peace
15:20 NATO Spokesperson Oana Lungescu tweeted:
15:17 Ukrainian border guards said the Russian navy has blocked access the Kerch Strait, separating Crimea from Russia, Reuters reported.
Border guard official Pavel Shishurin said the Strait was blocked "from the north and from the south."
Here is a photo depicting the current traffic on the strait from marinetraffic.com (click to expand). You can check for updates here.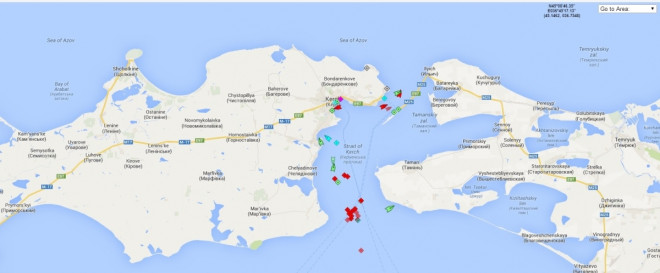 15:05 According to Matthew Fisher from Canada's Postmedia News, the soldier depicted in the photo here below has just contradicted President Vladimir Putin by saying he is Russian Infantry.
Putin claimed that troops surrounding bases and key locations in Crimea were "pro-Russian self-defence force."
14: 53 Here Kerry is depicted at a barricade in Kiev's on Institutska Street, near the Shrine of the Fallen.
Dozens of protesters were shot dead by sniper or automatic weapons fire there on February 20.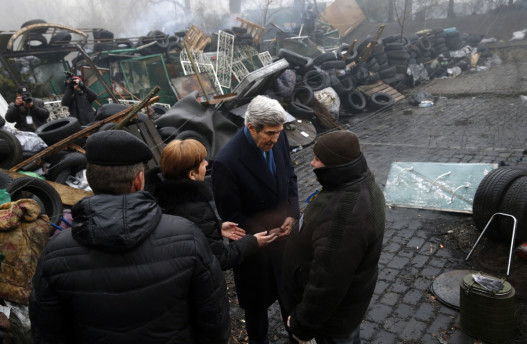 14:50 US Secretary of State John Kerry laid roses at the Shrine of the Fallen in Kiev.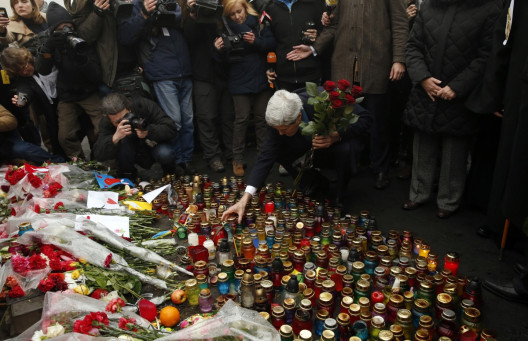 14:41 The EU High Representative for Foreign Affairs, Baroness Ashton of Upholland, is to meet with Russian foreign minister Sergei Lavrov in Madrid, Russia's permanent representative to the EU, Vladimir Chizhov, said.
"I believe that this meeting will be useful regarding explanation that our partners in the EU give about real situation and search for those practical steps that are needed to find a solution to current situation," Chizhov told Rossiya-24 television, Itar-Tass news agency reported.
14:33 Sweden's Crown Princess Victoria has joined a boycott of the Paralympics in Sochi.
The heiress to the Swedish throne cancelled her trio to the southern Russian city over the crisis in Ukraine.
Royal palace spokeswoman Ulrika Naslund told AP that Princess Victoria cancelled the trip after consultations with the Swedish government because of the "current situation."
14:18 Ukraine national football team said it will play a friendly match against the US which is scheduled for tomorrow in Cyprus.
A spokesman for the team said players stand united despite the turmoil that is dividing the country.
"(We) reached a consensus to play the USA after all," Alexander Glyvynskyy said. "(They) stood behind us to protect the national interests and territorial integrity of Ukraine."
14.05 Here is Putin's full press conference, translated into English.
13.46
13:22 Russian gas exports to Europe through Ukraine have not been affected by political turmoil in Kiev, a spokesman for state-controlled Gazprom tells Reuters.
13:14 Soldiers have shown their allegiance to Ukraine in a creative fashion, forming a UA on board their vessel.
12:55 Ukraine will be offered $1bn of energy aid under an economic package from the US, according to Associated Press.
It is the latest move in a grapple for influence over Ukraine, a country in the midst of revolution, between the west and Russia.
Read more here: Ukraine Crisis: US Offers $1bn Energy Aid After Russia Touts Gazprom Gas Bill Loan
12: 43 Ukrainian troops at the Belbek airport in Crimea managed to play some football despite an ongoing tense standoff with Russians.
12:29 US Secretary of State John Kerry has landed in Kiev to show support for the new Ukrainian leadership.
12:24 Footage has emerged of rightwing maverick Sarah Palin warning that if Barack Obama were elected to the White House then Russia would be likely to invade Ukraine.
Read more here: Sarah Palin Ukraine Invasion Prediction - First Video
12:22 Here you find more on Vladimir Putin's comments on the plunge in Russia's stock markets and the Rouble's slump: Ukraine Crisis: Vladimir Putin Claims Russia's Market Turmoil 'Temporary'
11:43 Despite Putin's warning that sanctions against Russia might backfire, the German foreign ministry has just tweeted that if there are no developments soon the EU Council will take action.
11:37 Putin's press conference is over.
11:35 Asked about rumours that Yanukovich has died Putin says he saw the ousted president recently and he "was well and alive."
"He will live longer than people who circulate gossip," Putin says.
11:30 There is one thing I agree with Maidan [Kiev protest movement] they're calling for drastic change, they want to see new faces, Putin says.
11:27 So, to recap: according to Putin troops showed in this photo are not Russian soldiers but very well trained local forces of self-defence forces.
11:24 Putin describes a possible boycott of the Paralympics in Sochi as "cynical", says it is a sports event.
11:23 Putin says Russia will not necessarily recognise the future president of Ukraine as legitimate even if elected.
"It depends if it take place amid the terror that is happening in Kiev we will not recognise it," he says.
11:21 About the situation in eastern Ukraine, where pro-Russian protesters have been storming local government buildings, Putin says he warned western powers that would have happened.
"Why you divide the country, why you split the country?" he says he told western diplomats.
11: 16 Putin said Russia in not aiming to annex Crimea but wants Crimean people to decide their own future according to the right of self-determination.
11:15 "Ukrainian politics turned into farce," Putin says about the protests that ousted Yanukovich.
"We should teach our people to respect the constitution."
11:12 Putin on protection granted to Yanukovich.
"Death is the easiest way to get rid of a legitimate president," Putin says.
Putin says Ukrainian protesters "would have killed him".
11:07 "We are not going to go to war with the Ukrainian people," Putin says.
"If we make this decision we make it to protect the Ukrainian people," Putin says.
How the army can shoot at people, women and children, Putin asks.
11:06 Asked about why their uniforms look like Russian uniform Putin says that there are a lot of uniforms one can buy at a store.
Putin says: "Were these Russian soldiers, no, they were local self-defence forces."
He says they are very well trained.
11:03 Putin denies troops that have occupied strategic locations in Crimea are Russian soldiers.
11:01 Asked about proposed sanctions, Putin says all threats against Russia are "counterproductive".
On the G8, Putin says Russia will continue preparation to host the summit in Sochi despite other members planning a boycott.
"If they don't want to come is up to them," Putin says.
10: 55 Putin repeats claims that, since ousted president Yanukovich asked for Russia to send in troops, a military operation in Crimea would happen in accordance to the principles of international law.
"We believe we are completely legitimate in what we are doing," Putin says.
Putin says he has always supported International Law.
"It is an humanitarian mission it is not our goal to conquer or dictate" .
10:53 He says he believes no military intervention will be needed in eastern Ukraine.
"Ukraine is a fraternal nation," Putin says.
10:52 Putin says use of force in Crimea would be extreme but legitimate since Russia reserved itself the right to defend people that were threatened by ongoing lawlessness and authorities called for Russian intervention.
10:48 Putin says military drill that just ended in Western Russia was long planned.
He says he is worried by radicals and extremists that are "rampant" in Ukraine.
"Is this an expression of democracy?" Putin asks.
10:47 Putin says Ukraine's interim president is not legitimate. "There is only one legitimate president," Putin says. Form a legal point of view it is Yanukovich, the Russian president says.
Putin says there are only three 'legal' ways to remove a president: death, resignation or impeachment.
10:45 Putin says that after the revolution Parliament is the only partially legitimate authority in Ukraine. "The rest are not" he says.
10:42 "These were silly actions and they backfired," Putin says about the revolution that toppled Yanukovich.
"It led to an escalation of tension in eastern Ukraine".
10:40 Putin says there's been an unconstitutional power seizure in Kiev.
The Russian president claims that Yanukovich agreed to early parliamentary election and presidential elections. He Agreed to everything he was demanded.
Yanukovich never issued any command to shoot at the protesters, Putin says.
10:31 Russian president Putin is about to make a statement on Ukraine. Watch it live here.
10:15 An adviser to President Putin said if the US was to implement economic sanctions against Russian companies and individuals, Moscow should retaliate by issuing a general advice to dump US government bonds.
"The Americans are threatening Russia with sanctions and pulling the EU into a trade and economic war with Russia," Sergei Glazyev told Ria Novosti.
"We hold a decent amount of treasury bonds – more than $200 billion – and if the United States dares to freeze accounts of Russian businesses and citizens, we can no longer view America as a reliable partner," Glazyev said.
"We will encourage everybody to dump US Treasury bonds, get rid of dollars as an unreliable currency and leave the US market."
10:10 The BBC's world affairs correspondent Richard Galpin, in Moscow, tweeted:
10:05 Russian servicemen are depicted as they stand guard the Belbek airport in Crimea in this photo:
10:04 Kyiv Post editor Christopher Miller tweets:
9:47 German Foreign Minister Frank-Walter Steinmeier said there is no solution in sight to the Ukrainian crisis, AFP reported.
9:45 Some 300 Ukrainian soldiers have marched on the Belbek air base Crimea, which was taken over by Russians.
Russians fired warning shots at the Ukrainians who were marching unarmed. A stand-off and negotiations are reportedly ongoing.
9:17 Ukraine's parliament confirmed that it has agreed to a €610m loan from the European Union which had allegedly been signed last year but never ratified under the ousted President Viktor Yanukovich.
The loan comes as relief for the embattled country that has seen its currency reserves dry up and its financial markets plunge amid the political chaos.
Read more here: Ukraine Ratifies €610m European Union Loan
9:02 Russia Today America's host Abby Martin is one her way to become an internet sensation, after she spoke out against the Kremlin's decision to deploy troops in Crimea live on air.
A video of her anti-intervention monolog broadcasted on RT America, a state-funded channel, which is often described as a propaganda tool for the Kremlin, was tweeted by Sweden's foreign minister Carl Bildt, among many others.
9:00 Russian president Vladimir Putin has ordered troops involved in a surprise military drill in western Russia back to their bases, as the test of combat readiness came to its end.
The four-day exercise 50,000 troops, 880 tanks, 90 aircraft and 80 naval vessels was called last week and saw part of the operations taking place near the Ukrainian border.