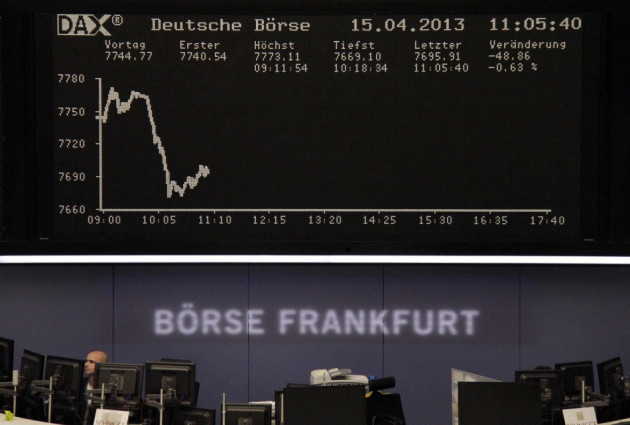 European markets gained in the opening minutes of trade ahead of the release of key employment data in the UK.
The pan-European FTSEurofirst 300 index gained 0.3 percent to 1,169.48 points in early trade, while the UK's FTSE 100 rose 0.3 percent. France's CAC-40 was up 0.7 percent.
Spain's IBEX rose 0.4 percent and Italy's FTSE MIB gained 0.7 percent, while Germany's DAX advanced 0.5 percent.
In the US, stocks rebounded more than 1 percent as big companies such as Coca-Cola and Johnson & Johnson posted strong earnings results.
In addition, new-home construction in the US increased more than forecast in March, and consumer price inflation fell for the first time in four months. Meanwhile US factory output declined in March, adding to the reasons for the Federal Reserve to undertake further monetary easing measures to support economic growth.
In the UK, the latest employment data is due for release during the day, and the Bank of England is scheduled to publish the minutes from its latest monetary policy committee meeting. The Swedish Riksbank will announce its latest interest rate decision as well.
Earlier, data showed that the German headline ZEW index fell from 48.5 to 36.3 in April, indicating investors' fears that the German recovery will falter amid continued concerns about the eurozone's debt problems.
The International Monetary Fund (IMF) on Tuesday cut its global economic growth outlook for 2013 and 2014 due to spending cuts in the US and the ongoing recession in Europe. The IMF lowered its forecast for global economic growth to 3.25 percent in 2013, down from the 3.5 percent it predicted in January. Growth forecast for the US and eurozone has been cut to 1.2 percent for 2013.
Nevertheless, the agency was bullish about economic growth in Japan, facilitated by aggressive stimulus measures from the government and the central bank to contain deflation and to spur growth.
The IMF raised Japan's 2013 growth forecast to 1.6 percent from 1.2 percent, and its 2014 forecast to 1.4 percent from 0.7 percent. The US dollar is currently trading at 98.18 yen, up 0.7 percent.
The Nikkei had earlier closed at 13,382.9, up 1.2 percent, while Australia's S&P/ASX 200 rose 1 percent at 5,001.1. South Korea's KOSPI closed at 1,923.8, up 0.1 percent.
Hong Kong's Hang Seng rose 0.3 percent to 21,740.2 towards close. In China, the Shanghai Composite index fell 0.1 percent to 2,192.6, with fears about bird flu mounting after a popular herb used to treat the infection ran out of stock.
Further, a senior Chinese auditor has warned that local government debt has spiralled "out of control," and the debt level can spark an even larger financial crisis than the US housing crash, the Financial Times reported.