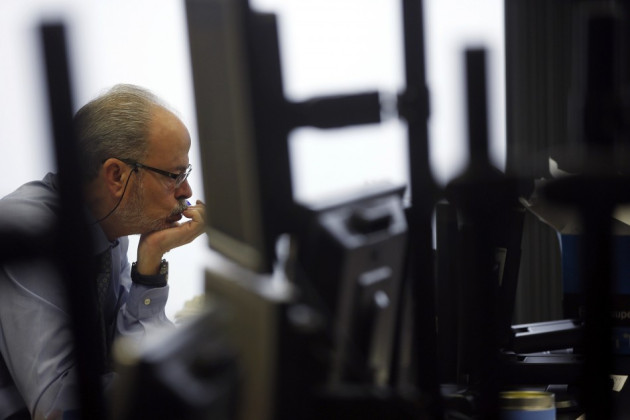 European shares edged lower in the opening minutes of trade as US debt ceiling and spending cut decisions look set to reach another deadlock.
The pan-European FTSEurofirst 300 index fell 0.1 percent to 1,158.83. UK's FTSE 100 eased 0.1 percent while Italy's FTSE MIB dropped 0.3 percent. Spain's IBEX tumbled 0.8 percent.
In Germany, the DAX fell 0.3 while France's CAC-40 slipped 0.2 percent.
The single currency eased against the dollar, trading at about $1.33.
Asian markets had ended mixed earlier with the Japanese benchmark index climbing to a near 32-month peak on the yen's multi-year low levels against the dollar.
The Nikkei closed 0.7 percent higher at 10,879.08, starting the week on a cheerful note after an extended weekend.
Stocks outside Japan remained weak, with Australia's S&P/ASX 200 easing 0.07 percent to 4716.60. South Korea's benchmark KOSPI index dropped 1.16 percent to 1983.74.
Hong Kong's Hang Seng fell 0.27 percent to 23349.94 towards close. In China, the Shanghai Composite Index rose 0.60 percent to 2325.68, showing resilience ahead of the release of the country's Gross Domestic Product (GDP) figures later this week.
Traders are keeping a cautious watch on the US fiscal debate, which looks set to reach another deadlock barely two weeks after the last-minute solution to the "fiscal cliff", along with the corporate earnings season.
Speaking at a news conference, President Barack Obama said that he will not agree to any Republican spending cut demands in exchange for raising the debt ceiling. Republicans have called for deep cuts to accompany the debt cap increase.
A failure to raise the borrowing limit could see the world's largest economy default on its debts. US Federal Reserve Chairman Ben Bernanke warned that lawmakers should avert such a situation, calling it one of the "critical fiscal watersheds" for the administration in the coming weeks.
US Treasury Secretary Tim Geithner also urged leaders to reach a solution, adding that a failure to do so will see the government left with only the "cash on hand", which would be insufficient to "meet existing obligations for any meaningful length of time".
A potential failure to raise the debt cap could upset the financial markets. The last debt ceiling standoff, between Obama and Republican congressmen in 2011, sent markets into disarray.
Several European countries, including the UK, are releasing their Consumer Price Index (CPI) figures during the day. Analysts expect Britain's CPI to remain at 2.7 percent for the third straight month in December.
In Asia, Japanese stocks surged in the morning session, but sentiments were dampened slightly after the yen showed signs of strengthening from its extended depths, prompting traders to book gains. The dollar fell to about ¥88.83 in the day after peaking at ¥89.67 early in the week. The euro traded at ¥118.53, retreating from the early high of ¥120.13.
Apple-related firms fell across the region following reports that the iPhone maker had cut orders on displays due to weak demand. Sharp Corp was down 2.7 percent while Foster Electric Company slipped about 1.4 percent. In Seoul, LG Display dipped 3.46 percent. Taiwan-based iPhone maker Hon Hai Precision Industry Company fell 3.44 percent.