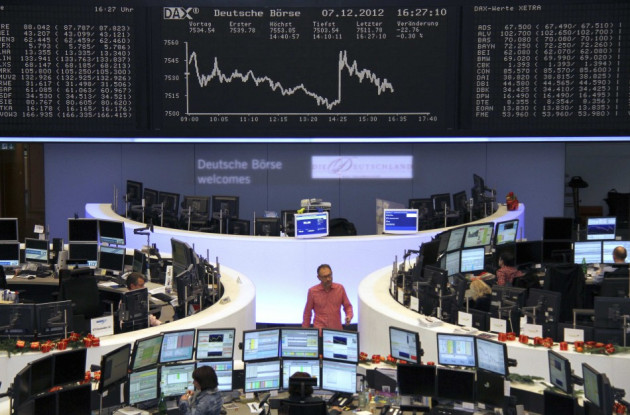 European stocks rallied in the opening minutes of trade tracking Asian markets, as global economic concerns eased after US lawmakers pulled off a fiscal cliff deal in time.
The FTSEurofirst 300 index of major European shares advanced one percent to 1,145.20 while UK's FTSE 100 was up 1.5 percent. France's CAC-40 climbed 1.7 percent while Italy's FTSE MIB rose 2 percent. In Spain, IBEX added 1.9 percent. Germany's DAX gained 1.5 percent.
By lunchtime, UK shares were up by just over 2 percent, with other European indexes up by a similar amount. The FTSE 100 broke through the psychologically important 6,000 mark for the first time since early 2011 as investors cheered the US agreement on tax rises and spending cuts.
The single currency remained firm against the Dollar, trading over $1.32.
Asian markets had earlier rallied to multi-month highs as the "fiscal cliff" solution eased global economic concerns.
The MSCI's broadest index of shares outside Japan climbed 0.5 percent. South Korea's KOSPI ended 1.71 percent higher to 2031.10 while Hong Kong's Hang Seng gained 2.53 percent to 23229.37 towards close. Japanese and Chinese stock markets remained closed for a holiday.
The Dollar continued to stay strong against the Yen, trading at about ¥87.
Following weeks of discussions, US lawmakers reached a fiscal cliff solution early in the day as the House of Representatives passed a compromise deal. The move helped to avert the budget measures that threatened to push the world's largest economy into recession.
The Senate had passed the bill earlier and despite positive sentiments but traders had remained cautious of the House's decision. Now that the agreement has become a reality, global markets look to start 2013 on a positive note.
Asian traders were also upbeat on the strong regional economic outlook. China's official Purchasing Managers Index (PMI) showed that the country's manufacturing sector continued to remain in expansionary territory. Earlier, China HSBC manufacturing PMI had revealed growth from the previous month.
HSBC's South Korean and Taiwanese manufacturing surveys also pointed to stronger performance in December, with the indices climbing over the 50 mark.
Financial sector advanced in Hong Kong. Shares of China Life Insurance jumped 6.32 percent while Ping An Insurance Group added 4.78 percent. Metal stocks too traded higher on the strong outlook. Citic Pacific was up 9.86 percent while Aluminium Corp of China traded 4.51 percent higher.
Asian markets had ended 2012 with strong gains, but trading in the year remained largely unpredictable due to volatile macroeconomic conditions. Analysts and investors remain positive on 2013 economic prospects as most of the previous year's concerns, including US economic woes and a Chinese slowdown appear to have subsided.
"Thanks to central bank intervention on an unprecedented scale and the battle-hardiness of traders 2013 is unlikely to see the same degree of volatility and panic that last year did, as tail risk is removed," said Jason Hughes, Head of Premium Client Management at IG Markets in Singapore.