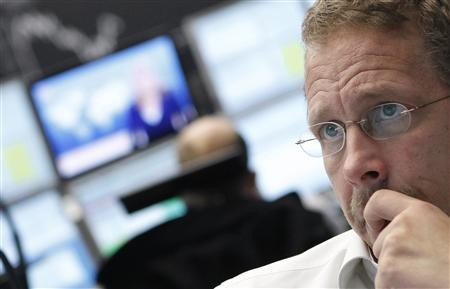 European stocks dropped in the early minutes of trade, tracking Asian markets, as concerns on US 'fiscal cliff' talks mounted after a Republican backup plan to avert the crisis was shelved.
The pan-European FTSEurofirst 300 share index fell 0.2 percent to 1,140.09 while Britain's FTSE 100 dropped 0.5 percent.
In France, CAC-40 slipped 0.4 percent while Italy's FTSE MIB declined 0.8 percent. Spain's Ibex and Germany's DAX were down 0.5 percent.
The single currency eased against the greenback, trading at about $1.32.
US budget negotiations took yet another blow as the Republicans decided to cancel a proposed "Plan B" that included tax hikes on those earning more than $1m. Despite early optimism House Speaker John Boehner said that he had to abandon the proposal as it failed to gather support from his own party.
Asian stocks had closed lower earlier as the latest development cast further doubts on the direction of discussions.
The Nikkei ended 0.99 percent lower to 9940.06 while South Korea's KOSPI fell 0.95 percent to 1980.42. Hong Kong's Hang Seng Index dropped 0.78 percent to 22483.43 towards close. China's Shanghai Composite Index closed 0.69 percent down to 2153.31.
Although analysts expect lawmakers to reach a solution before time runs out, markets continue to remain volatile on fears of possible implications of the impending fiscal crisis.
"As the Republicans and Democrats continue to argue the exact method for fiscal cliff avoidance, be it down to tax hikes or spending cuts or the likely compromise combination of the two, the market will continue to swing between gains and losses as the negotiations meander and occasionally stumble towards a conclusion," said Jason Hughes, head of premium client management at IG Markets in Singapore.
Japanese stocks slipped as the Yen added modest gains against the Dollar. Investor sentiments had picked up slightly after Bank of Japan (BoJ) announced plans to boost its asset purchase plan by 10 tn Yen and hinted at reconsidering inflation levels.
BoJ was widely expected to refrain from major stimulus measures for the moment, especially as its Governor Masaaki Shirakawa himself warned that aggressive monetary easing measures will not help Japan.
Analysts note that the bank's decision indicates strong political pressure as the pro-stimulus Liberal Democratic Party (LDP) takes office. LDP had earlier said that the central bank should hike inflation target to 2 percent and take up unlimited monetary easing measures.
"We think the BOJ's resistance to inflation targeting and a policy pact with the government is weakening," noted analysts from Nomura Research in Tokyo, but added that at least some policy board members are likely to resist the government's demands.