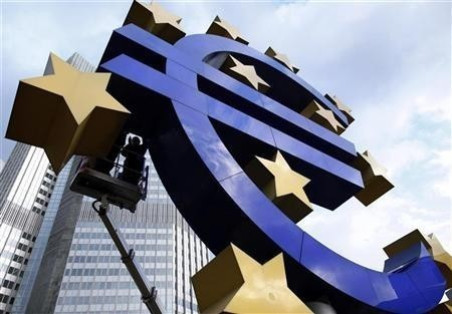 The eurozone economy contracted further in the first quarter on lower investments and exports, according to official data.
Eurostat, the European Union's statistics office, confirmed in its second estimate that gross domestic product (GDP) for the region declined 0.2% sequentially in the first quarter, as estimated by analysts.
The decline was primarily to a 1.6% fall in gross fixed capital formation, negatively affecting GDP by 0.3 percentage point.
Exports declined 0.8% sequentially in the first quarter, while imports dropped 1.1%, according to the official data. Consumer spending increased by 0.1%, while government spending declined 0.1%. Inventories had little impact on GDP in the quarter.
On a year-on-year basis, GDP declined 1.1% in the first quarter, compared to a 0.9% decline in the previous quarter.
The economic contraction is expected to expand into the sector quarter, as separate reports revealed that the area's retail sales fell more than forecast in April and services sector shrank in May.
Separate data by Eurostat showed retail sales dropped 0.5% in April, compared to a 0.2% fall in March, indicating continued weakness in private consumption at the start of the second quarter. Economists had forecast a 0.1% decline. From a year earlier, retail sales declined by 1.1%.
Also, Markit Economics said that its index of services activity for the euro area rose to 47.2 in May from 47 in April. A reading below 50 indicates contraction in the sector.
The eurozone economy is suffering from record-high unemployment and widespread government austerity measures that affected domestic demand. An index measuring manufacturing activity rose in May, but it still indicates contraction in the sector.
The European Central Bank cut its key interest rate to a record low of 0.5% last month. The bank is likely to keep the rate unchanged in a meeting schedule for 6 June.
The European Commission forecasts that the region's economy would grow by 0.1% in the second quarter, after contracting for a record six straight quarters.