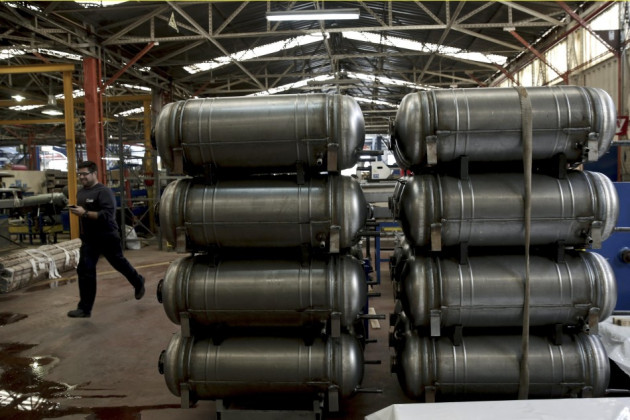 In further good news for the area, inflation in key European countries such as Germany, Italy and Spain eased in April.
Eurostat, the statistical office of the European Union, said that the seasonally-adjusted industrial production increased by 1% on month in the euro area in March. That was the strongest month-on-month increase since July 2011 and compares to the February growth rate of 0.3% and economists' expectations for a growth of 0.5%.
On a year-on-year basis, industrial production rose by 1.7% in the euro area. During the first quarter, industrial production rose 0.3%, rebounding from a 2.1% fall in the last three months of 2012.
The monthly production increase was primarily driven by a 3.8% rise in energy production. Production of durable consumer goods and capital goods rose by 1.9% and 1.2%, respectively. Meanwhile, intermediate goods fell by 0.1% and non-durable consumer goods declined by 0.7%.
Analysts widely expect that the region's recession has eased in the first quarter from a 0.6% contraction in the fourth quarter of 2012 to 0.1% in the first quarter. However, they were of the opinion that the area's recession would continue at least until the end of 2013, unless policymakers are not announcing further stimulus measures.
Earlier, the European Central Bank (ECB) has reduced the benchmark interest rate by 25 basis points to a record low of 0.5. The ECB targets an inflation rate of just below 2% across the eurozone.
Germany's Federal Statistical Office separately said that the country's inflation has hit the lowest rate in about three years due to a decline in fuel costs. Consumer prices in April rose 1.2% year-on-year, compared to an inflation rate of 1.4% in March.
However, investor confidence in the country rose less-than-forecast in May, according to the ZEW Center for European Economic Research. The ZEW index measuring investor and analysts' expectations over the next six months increased to 36.4 from 36.3 in April. Economists expected a gain to 40 in May.
In Italy, inflation eased to 1.1% year-on-year in April, the lowest rate since December 2009, from 1.6% in March, according to official data. The inflation rate calculated based on European Union rules declined to 1.3% over a 12-month period from 1.8% in March. The decline was driven by lower energy prices that declined 0.9% on an annual basis.
Meanwhile, Spanish consumer prices rose 1.4% year-on-year in April - the lowest increase since March 2010 - compared to a 2.4% increase in March, according to the National Statistics Institute.
Spanish European Union-harmonised prices increased 1.5% on a year-over-year basis, down from 2.6% in March. Core inflation, which excludes energy and fresh-food prices, was 1.9% in April, compared with 2.3% in March.