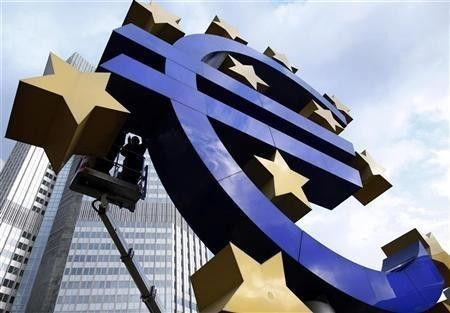 The services and manufacturing sectors in the eurozone continued to shrink in April as Germany joined other big nations in the region to report a decline in activity for the first time in five months.
The final Markit Eurozone Composite Output Index showed a reading of 46.9 in April, indicating a decline in the overall business activity. The weak business activity suggests that the region's ongoing recession is deepening in the second quarter.
For the past 15 months, the index is showing a reading below 50, indicating a contraction. The index, however, was better than the March reading of 46.5.
The final services business activity index improved to 47.0 from 46.4 in March.
"The PMI suggests that, having eased in the first quarter of the year, the eurozone's economic downturn is likely to have gathered momentum again in the second quarter," Chris Williamson, chief economist at Markit, said in a statement.
In April, Germany slipped back to contraction for the first time since November 2012 with a decline in activity in both services and manufacturing sectors.
The final Germany services business activity index declined to a six-month low at 49.6 in April from 50.9 in March due to continued decline in new business intakes, Markit said. The final composite index fell to a 5-month low at 49.2 from 50.6 in March.
"Strong downturns in France, Spain and Italy have broadened out to encompass Germany again, with slumping domestic demand exacerbated by export losses due to a weakening of economic growth in other countries, such as the US and China," Williamson noted.
Among other major nations, Spain, France and Italy have recorded contraction in business activity, although rates of decline eased in the latter two.
The seasonally adjusted Markit/ADACI Business Activity Index for Italy was at 47.0, compared to 45.5 in March. In France, the final composite index rose to 44.3 from 41.9 in March.
Spain's business activity index declined further to 44.4 in April from 45.3 in March.
Job losses were reported for the sixteenth straight month in April, as payroll numbers were cut further in France, Italy and Spain, Markit said.
The European Union's statistics office, Eurostat, said earlier that the region's jobless rate rose to a record high at 12.1% in March from 12% in February.
Following the weak economic data, the European Central Bank slashed its interest rates by 25 basis points to 0.5%, its lowest rate ever. Williamson noted that the rate cut is not likely to have a "material impact on an economy that is contracting so sharply."