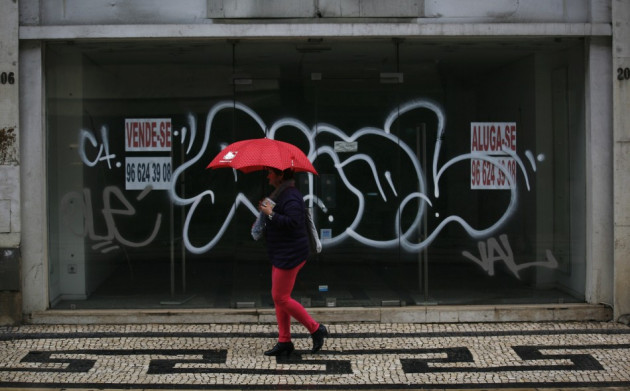 Europe's recession will likely deepen and last longer than first anticipated after readings for economic activity and business sentiment around the region fell sharply in October amid the on gong debt crisis.
A broad survey of services and manufacturing activity around the eurozone measured a sharp slowdown in October, according to data published Tuesday by Markit. The so-called Composite Purchasing Mangers' Index (PMI) fell to 45.8 for the month, a three-year low, compared to a reading of 46.1 in September. Figures below 50 are generally assumed by economists to indicate contraction while those above are signals of expansion.
Manufacturing activity slowed to 45.3 from 46.1 in September while the services sector notched a tiny gain to 46.2 from 46.1 in the previous month.
"The eurozone has slid further into decline at the start of the fourth quarter," said Markit's chief economist, Chris Williamson. "The survey is running at a level which is historically consistent with the region's economy contracting at a quarterly rate of over 0.5%. Official data have shown surprising resilience over the summer compared to the survey data, but the underlying business climate has clearly deteriorated markedly in recent months."
Meanwhile, a benchmark survey of business sentiment in Germany, Europe's biggest economy, fell for the sixth consecutive month, the Munich-based research group Ifo said Tuesday.
Its well-watched Business Climate index sank to 100, a two and a half year low, from 101.4 in September. The figures support a similar slump in business optimism reported by France's main statistical unit, INSEE, which said sentiment touched a three-year low of 85 this month.
"Sentiment about prospects for the year ahead are now the gloomiest since early-2009, when the post-Lehman Brothers crisis was in full swing," said Markit's Williamson.
The euro touched a one-week low of $1.2932 against the US dollar while stocks around the region turned negative after the data was published at 0900 London time. Bund futures rose around 19 ticks to trade at 140.54.
Collectively, the figures point to a worsening recession across the Eurozone as demand remains elusive amid the on going sovereign debt crisis, although the market impact may be mitigated by stronger-than-expected economic data from China early in the session, where the benchmark HSBC PMI index for October hit a three-month high of 49.1 - still below the watershed level of 50 but a rare signal of steady improvement in what is perhaps the world's most important economy.
On a regional basis in Europe, Germany recorded steep declines in both manufacturing and service sector activity for the month, recording figures of 45.7 and 49.3 respectively for a composite reading of 48.1.
In France, the overall reading was 44.8 with services and manufacturing improving slightly to 46.2 and 43.5.