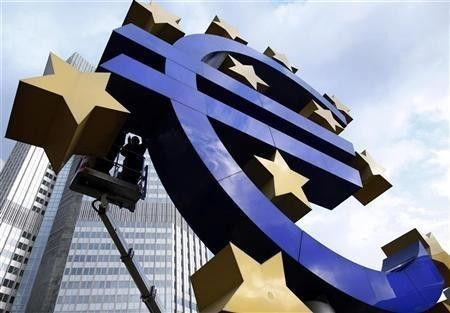 The 17-member eurozone economy will contract more-than-expected in 2013 along with a decline in budget deficits, said the European Commission in its new forecast for the single currency area for the next two years.
According to the Commission, the euro area is expected to contract 0.4% this year before heading for 1.2% growth in 2014. This compares with the agency' February projections of a 0.3% recession and 1.4% growth respectively.
Earlier, the ECB had projected that the eurozone economy will shrink 0.5% in 2013 before expanding 1% in 2014.
"In view of the protracted recession, we must do whatever it takes to overcome the unemployment crisis in Europe. The EU's policy mix is focused on sustainable growth and job creation," EU Economic and Monetary Affairs Commissioner Olli Rehn said.
"Fiscal consolidation is continuing, but its pace is slowing down. In parallel, structural reforms must be intensified to unlock growth in Europe."
Out of the five largest economies in the region, only Germany is expected to post growth this year, while France, Spain, Italy and the Netherlands will be in recession. France is projected to shrink 0.1% this year.
The aggregate government deficit in the eurozone is to fall 2.9% of the gross domestic product this year and to 2.8% next year, a difference of only 0.1 percentage point. This compares with a 3.7% deficit in 2012.
Unemployment in the region is predicted to be at 12% in 2013, up from 11.4% last year, which is expected to stabilise next year.
Earlier, data from the European Union's statistics office, Eurostat showed that euro area's unemployment rate rose to a record high at 12.1% in March from 12% in February.
The gradual decline of inflation is expected to continue this year with 1.6% in the euro area, stabilising at 1.5% in 2014. Inflation saw its biggest monthly drop in over four years, to 1.2% in April as against the 1.7% fall in the previous month.
The continued fall in inflation rate and the gloomy employment scenario in the region prompted the ECB to lower its main interest rate by a quarter point to a new record low of 0.5%.