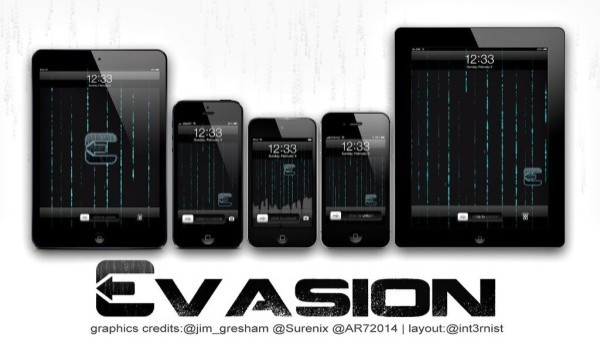 The Evad3rs Dream Team has had a hectic week with a flurry of evasi0n jailbreak updates and bug-fix releases. The jailbreak community has rejoiced over the release of the most-awaited untethered jailbreak for iOS 6, as the evasi0n jailbreak tool was rolled out on Monday.
The public release of the jailbreak preceded the release of the evasi0n 1.1 update on Wednesday that brings fix for Weather app crash bug and long reboot issues. Now, evasi0n has received its second update with a couple of feature enhancements: Disable OTA updates and fix timezone issue in evasi0n binary.
Check out the complete change log for the three evasi0n releases below:
Version 1.2
Disable OTA updates.
Correct timezone issue in evasi0n binary if client fails to correct it.
Version 1.1
Prevent Weather app from appearing on iPads.
Mitigated the long reboot issue.
Fix issue with not working after connecting multiple iOS devices.
Fix blinking of the jailbreak instructions on OS X.
Codesigned Mac app.
Version 1.0
As iDownloadBlog notes, the new disable OTA feature is expected to prevent you from accidentally updating the iPhone to the latest version of iOS 6 and thereby avoid killing your jailbreak. In addition, users facing timezone bug issue can now feel relieved, as the new update will automatically correct the problem in evasi0n binary.
However, users who have already jailbroken their device on iOS 6 (step-by-step guide) are advised to refrain from re-jailbreaking their device as these updates can be downloaded and installed separately (manually) via the evasi0n 6.0-6.1 Untether package in Cydia. For instance, Version 0.3-1 of the package also disables OTA update daemons to prevent settings app from prompting you to install the latest iOS 6.1.1 update when it releases.