Everything Windows 10 collects on you: Microsoft reveals complete list of data it gathers
Microsoft has been forced to adopt greater transparency after user backlash.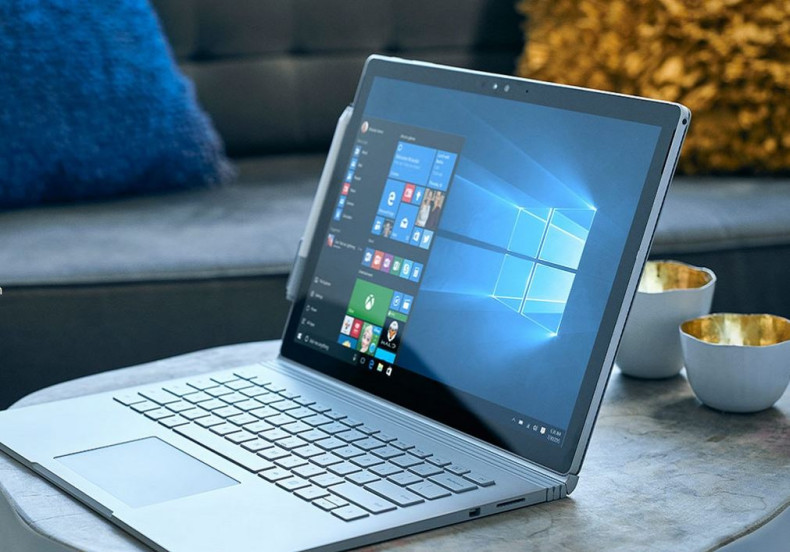 Since July 2015, when Microsoft's Windows 10 was first released to the general public, it has been dogged by accusations of playing it fast and loose with users' privacy. Now, officials from the company are keen to stress personal security is more important than ever before.
Putting a positive spin on the slew of reports accusing the company of everything from installing "keyloggers" in software to the rampant collection of customer data, Microsoft released a blog post this week (5 April) touting a number of enhanced privacy features.
"For the first time, we have published a complete list of the diagnostic data collected at the Basic level," wrote Terry Myerson, EVP of the Windows and Devices Group.
He continued: "We are also providing a detailed summary of the data we collect from users at both 'Basic' and 'Full' levels of diagnostics.
"Aside from sharing new information to inform your choices, our teams have also worked diligently since the Anniversary Update to re-assess what data is strictly necessary at the Basic level to keep Windows 10 devices up to date and secure.
"We looked closely at how we use this diagnostic data and strengthened our commitment to minimise data collection at the Basic level. As a result, we have reduced the number of events collected and reduced, by about half, the volume of data we collect at the Basic level."
Myerson listed three new proposals put forward to empower customers about privacy protections in Windows 10, including improving in-product information, updating the Microsoft privacy statement and publishing more information about the data it collects.
Marisa Rogers, Microsoft's Windows privacy officer, joined the blog post to show off a series of images depicting the new toggle functionality that gives users enhanced control over what information the company has access to, from location data to tailored advertising.
Each have reportedly been updated to display clear, concise, language and less technical jargon.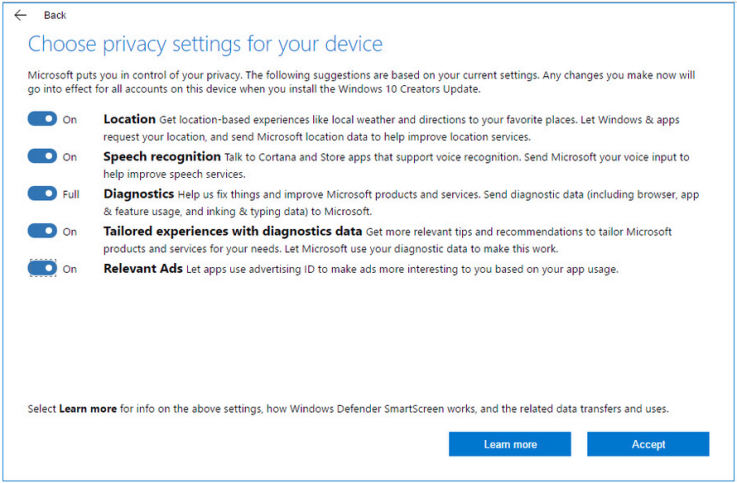 Windows 10 privacy panel
Microsoft
"We are on a journey with you and fully committed to putting you in control and providing the information you need to make informed decisions about your privacy," Rogers wrote.
She added: "In future updates, we will continue to refine our approach and implement your feedback about data collection and privacy controls. We are committed to helping ensure you have access to even more information and can review and delete data we collect."
In February this year, Reuters reported that European Union data protection watchdogs remained concerned about Microsoft's privacy policies. "Microsoft should clearly explain what kinds of personal data are processed for what purposes," the group urged.
Only a month prior to the EU conclusion, Myerson published a blog post titled "Our continuing commitment to your privacy with Windows 10" claiming that Microsoft was "working hard" on providing greater levels of settings and controls.

"Regardless of your data collection choices, we will not use the contents of your email, chat, files, or pictures to target ads to you," he stressed at the time.
To see a detailed summary of the data Microsoft collects from users at both Basic and Full levels of diagnostics, click here.