An international team of scientists, divers, sailors and photographers is embarking on a proposed three-year trip across our oceans, to discover new species and document marine creatures as never before.
Expedition Aquatilis, which is led by Alexander Semenov, currently head of the divers' team at Moscow University's White Sea Biological Station, is seeking £891,000 ($530,000) for the project through a crowdfunding campaign. The total cost for the three years is estimated to be $4 million, although Semenov says the team will set sail with or without funding.
The team of 12 are hoping to find out more about gelatinous zooplankton during the project, as only an estimated 1,000 are known to science, which is around 20% of the world's total. They also hope to examine the impact of pollution on the creatures and how they adapt.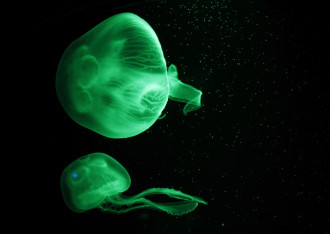 The trek will take the group 35,000-nautical-miles across the Atlantic, Pacific and Indian oceans in a 70ft custom-build expedition yacht, which is scheduled to set off from Marmaris, Turkey, next summer.
The Azores, the Caribbean, Brazil, Hawaii, New Zealand, Madagascar and the Philippines are among the planned destinations for the expedition.
"We want to show how interesting and unique the life can be, if you chase your dreams," Semenov told Wired. "We're going to explore the whole new area of science mixed with art and stories. We're going to discover the source of knowledge and inspiration for the next generations. And tons of new species as well."
Semenov is known as a photographer and has previously captured incredible images of gelatinous zooplankton, or gelata.
All jellyfish are zooplankton, and form the basis of the marine food chain, but not all gelatinous zooplankton are jellyfish. The most commonly encountered organisms include medusae and ctenophores. As jellyfish are 95% water, they cannot retain their form if they are taken out of the ocean.
At depths of over 3,000ft, the Aquatilis team will deploy a custom-made underwater robot fitted with a built-in low-light camera, to take images of never-before seen species.
The researchers will share their scientific underwater research with the public worldwide, via satellite.
In a promotional video for the project, Semenov explains that 71% of Earth's surface is water, the majority of which is unexplored.
"We still don't know about most of what is hidden in our Earth's oceans. Gelatinous zooplankton or gelata are some of the least known and least studied in the world. They are also extremely important and beautiful," Semenov said.
"I want to do something that's never been done before. I want to go around the world on an expedition to study gelata."