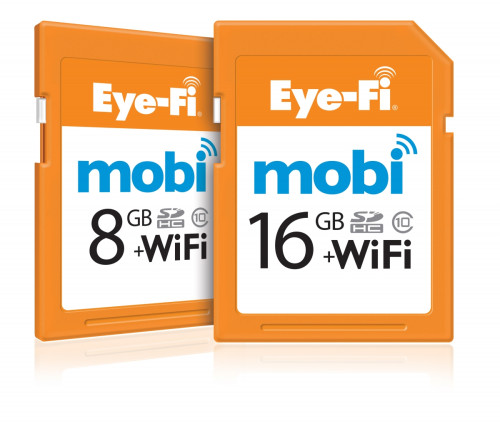 Key Features:
8GB SD card
Wi-Fi
Companion iOS and Android app
Works with PC and Mac
Price: £33 (8GB)
Eye-Fi Mobi Review
Transferring photographs from a camera to your computer or smartphone can be a laborious task involving cables and adapters. The Eye-Fi Mobi claims to streamline and simplify this process by creating a Wi-Fi connection between your camera and laptop, smartphone or tablet, instantly syncing photos as they are taken.
The Mobi card claims to offer a simple solution to a simple problem, and it does - but only after forcing you through an obstacle course of poorly designed software and incomplete instructions.
A bad place full of poor software and unanswered questions
The Eye-Fi Mobi wireless SD card took me to a bad place. A place where unintuitive, confusing and misleading software caused much sighing, muttered expletives and the need to consult forums full of unanswered questions from customers sharing my pain.
My first hour or so with the Eye-Fi Mobi wasn't a particularly enjoyable one. Website instructions which fail to mention crucial steps, iPhone software that hasn't yet been updated to iOS 7; PC and Mac software full of dead ends, greyed out boxes, and a 'Customer Care' link which takes you to none other than the Google home page.
The place Eye-Fi had taken me was a place I had forgotten existed, thanks to the shiny, simple app-tapping world we now live in.
I'd forgotten the misery of wading through forums and finding someone else with my exact problem, only to discover they have had no answer in two years: installing and uninstalling mountains of terribly-designed software, entering a printed activation code multiple times, and giving my email address away for no good reason.
It's embarrassing that something so simple can be such a pain to set up.
---
Eye-Fi Mobi: How Does It Work?
---
But fear not, dear readers, because I now have the Mobi SD card talking nicely to my camera, MacBook and iPhone - and once hooked up, photos taken with your camera are instantly sent to the connected device.
To do this, the Eye-Fi card needs to be paired with a free application available to download from the iOS App Store and Google Play.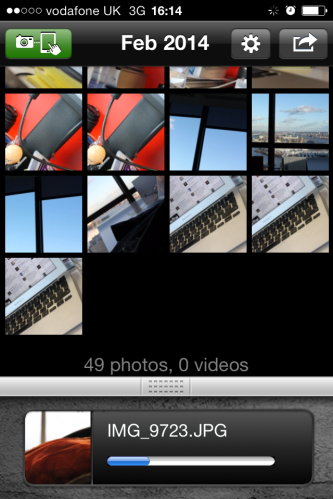 Once installed, the app asks for your Eye-Fi card's unique activation code, which is printed on its storage case - I'd like to see the code printed on the SD card as well, but it only need to be entered once so if you can manage not to lose the case during the first few minutes of ownership, you'll be fine.
I used the Eye-Fi Mobi with an iPhone, so the next step saw the Eye-Fi app instruct me to download a patch in the phone's Settings menu. The process is all automated, and don't worry about the red 'Unsigned' message displayed by iOS, - the patch is perfectly safe. Tap 'Install Now' on the next notification, then Done.
After this, Eye-Fi's instructions ask you to install the card into your camera, open the app, and start taking photos. But there's one important step missing for many users. Most Canon SLRs - including the Eos 1100D at IBTimes Towers - require you to dig into its own settings menu, where you can enable or disable the card's Wi-Fi connection.
Once enabled, the Eye-Fi card will show up in the list of Wi-Fi networks visible to your iPhone. Tap it - no need to enter a password, as you used the activation code earlier - and you're connected.
---
Eye-Fi Mobi: Hijacking your Wi-Fi
---
Being a Wi-Fi Direct connection means transfer speeds between camera and phone are excellent - 12-megapixel photos take just three or four seconds - but it also means your phone is no longer connected to your home or office Wi-Fi network, meaning you're down to 4G, 3G or whatever you can connect to.
There's an auto-timeout function where your phone will disconnect from the Eye-Fi and reconnect to your Wi-Fi network after a few minutes of inactivity - or when you switch the camera off.
Shoot a couple of photos and open your phone's Settings app to reconnect to the SD card, at which time any photos taken since your last sync will be copied across.
Transferring photos from camera to smartphone is nice enough, but I doubt it's a function most users of either product are crying out for. However, the Eye-Fi's ability to instantly transfer photos to a laptop is much more interesting - at least to my colleagues and I.
Eye-Fi's Desktop Receiver application is easy to install on PC or Mac, with photos appearing on my MacBook just seconds after they were taken, and organised by date in a new folder in the location of my choosing. But while the transfer is quick and simple, the fundamental problem of the SD card using your Wi-Fi (and therefore kicking you off the internet) is a major drawback.
---
Eye-Fi: Verdict
---
As a journalist, I immediately knew how the Eye-Fi would fit into my professional life; it can be used to instantly transfer photos taken during a press conference to my laptop, ready to be live-blogged or added to a breaking news story - providing the laptop is online via an ethernet port or mobile internet dongle, and doesn't require a Wi-Fi connection, of course.
Here, having a near-instant connection between camera and laptop (or smartphone/tablet) is hugely beneficial, but for the majority of consumers I am struggling to think of many other use cases. Those who take their Instagramming seriously could use the card to upload photos taken on an SLR more quickly, via their smartphone, but I feel most users would take the photo on their phone in the first place anyway.
Add this to the high price (more than £30 compared with around £5 for a regular 8GB SD card), and the Mobi doesn't make too much sense.
As a live-blogging journalist's tool, it's a good addition to my laptop bag, but for everyone else it feels like a poorly implemented solution to a problem that doesn't really exist.