The Football Association have refused to deny England supporters directed racial chants towards Rio and Anton Ferdinand during the World Cup qualifier against San Marino but claim to have found no incriminating evidence of such offence.
Newspaper reports had alleged that England fans had directed racially motivated chants towards the Ferdinand brothers during the 8-0 win over San Marino last month.
Football Against Racism in Europe (FARE), the anti-racism partner of FIFA, confirmed they had submitted reports regarding alleged chants, providing evidence from match observers but The FA say after assessing video evidence that no findings were made.
Adrian Bevington, Managing Director of Club England said: "We were asked by FIFA to submit a submission by close of play on Tuesday which we will do so.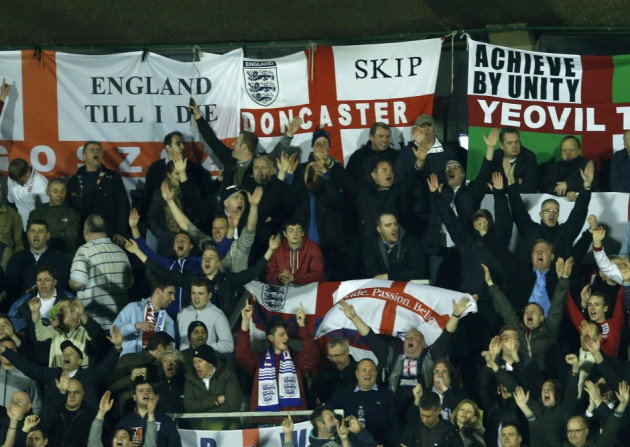 "We have spent the time since then going through all of the recorded video evidence that we have had from our security team. That has not identified any individuals or any evidence of any racially abusive or any general abusive chanting that has been reported.
"It do want to make clear that we do not want to dispute any individual journalists who have reported what they heard in San Marino and not being accurate with that. Clearly they have heard something; it's just the fact that we can't identify it.
"It's important to stress that the general behaviour of our fans in San Marino was very good and we are talking about a very small amount of people.
"Additionally it is important that we praise the vast majority of the England fans who travel far and wide supporting the England national team in great numbers probably in greater numbers than any other national team supports at great cost and time off work and they show great support for the team and generally behaving in an impeccable way a has been the case since the European championships in 2000.
"We're not denying what the journalists heard, they clearly did otherwise they wouldn't have reported it but likewise it is in small numbers and thankfully the vast majority of people do behave themselves very, very well when they're supporting England."
England supporters' club spokesman Mark Perryman, who didn't attend the San Marino match told IBTimes UK he knew of no reports from fellow supporters regarding the alleged chants, while an unnamed fan who was present at the game refuted the accusations.
John Terry was earlier this season found guilty by The FA of racially abusing Anton Ferdinand, while the former England captain was cleared at Westminster Magistrates Court of a racially aggravated assault against the Queens Park Rangers defender.
Terry was stripped of the international captaincy in February last year but then chosen ahead of Ferdinand in the England Euro 2012 squad prior to the charges being heard.
Both Ferdinand brothers were among those players to reject wearing a Kick It Out t-shirt during a campaign week and have since met with football's main decision makers to seek to improve the fight against discrimination.
More recently, Ferdinand pulled out of the England squad for the World Cup qualifying double-header against San Marino and Montengro due to concerns over his fitness regime.
Ferdinand, the Manchester United defender tweeted after the game: "You expect+accept banter from fans on the terraces as its part of what makes the game great, but racism is not banter, & from ya own fans. WOW. Always a small minority who ruin it for others.
"Let's not jump to conclusions and assume though as it might just have been banter. We'll see after the investigation."
The accusations of racist chanting come amid demands from The FA for England fans to refrain from signing the anti-IRA song 'No Surrender' during matches ahead of the international friendly with Republic of Ireland on 29 May, 18 years on from the pair's last meeting at Lansdowne Road which was abandoned after 27 minutes due to crowd trouble.