Facebook App Center is now available in the UK and Europe, letting developers create games and applications for the social network's 900 million members on the web, as well as Android and iOS.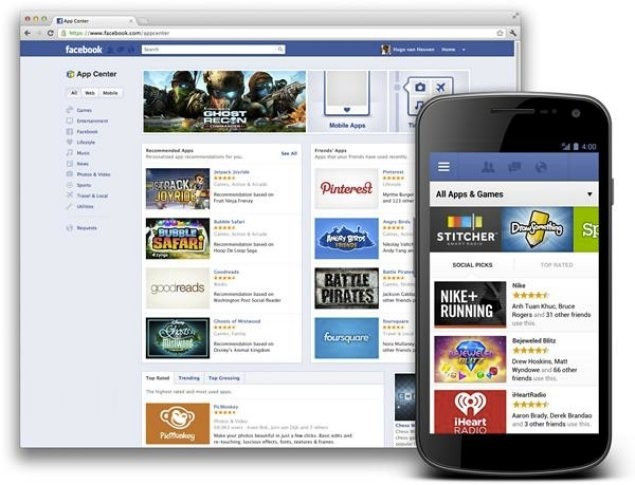 While games such as Farmville and Words With Friends were already available to play on Facebook, the launch of the App Center gives developers a central place to list their games, and users of the site a comprehensive catalogue of Facebook apps to browse through.
Facebook said: "The App Center features many European-based apps such as Deezer, The Guardian, King.com games and Livesport.TV.
"The App Center gives you personalised recommendations and lets you browse the apps your friends use. It only lists high-quality apps, based on feedback from people who use the app. To make it easier to find social apps for mobile, the App Center is available in the Facebook iOS and Android apps, as well as Facebook.com."
Applications are rated by their popularity with users, quantified by user ratings out of five stars and engagement with the app. These metrics will go towards deciding if an application is listed in the App Center or not.
Facebook explains: "Well-designed apps that people enjoy will be prominently displayed. Apps that receive poor user ratings or don't meet the quality guidelines won't be listed."
App Center can be accessed from a link on the left side of your News Feed, or by visiting facebook.com/appcenter.
Optimum app guidelines set out by Facebook include having an easy-to-use interface with no significant bugs, showing clear distinction between ads and content, having a low negative feedback rating and not mimicing the Facebook user interface "in a way that's misleading or unintuitive."
A full set of guidelines can be found on the Facebook developers' blog.
For iOS and Android devices, developers can send a user from the Facebook App Center to the Apple App Store or Google Play where apps can be downloaded to their mobile device. However, only iOS and Android apps which use a Facebook login will be considered for the App Center.
Once an app has been created, developers are asked to build an app detail page, which is required for being listed in the App Centre. The detail page shows images from the app, gives a brief description of what the app does and displays a star rating out of five.