A Facebook software engineer accidentally blocked photograph-sharing Web site Imgur's access to his Web site, leading to several complaints and rather annoyed users. Fortunately for all oncerned, the error, made by an employee later identified by CNET as Matt Jones (his Twitter handle is @fisherrider), was quickly realised and corrected. The error was reported by Reddit user AmericanDerp.
CNET reported users were unable to post Imgur links to their Facebook profile pages. They were faced with an error message that read: "The content you're trying to share includes a link that's been blocked for being spammy or unsafe." Incidentally, Imgur is one of the most popular such Web sites around, having recorded close to 30 billion page views in the last 30 days.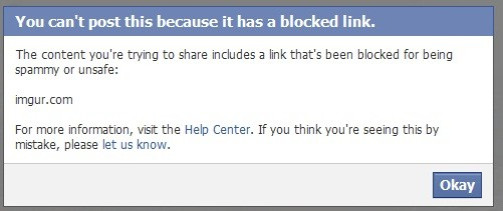 Meanwhile, Jones soon realised his mistake and corrected the problem. He also posted an apology note on Reddit, under the tag "fisherrider".
"Hey folks - so this is actually my fault. Literally, I'm the guy who accidentally blocked Imgur for a brief period of time today. I'm really sorry. Some background: I'm an engineer who works on the system we use for catching malicious URLs. In the process of dealing with a bad URL that our automated defenses didn't catch, I ran into a rare bug that caused us to incorrectly block some legitimate URLs for a brief time. Right after I figured that out and removed the bad data, I reworked the UI so no one will get bit by the same issue in the future."
In a charming gesture of apology, Jones said he was also posting a photograph of his dog, dressed for the 4 July weekend, as a gesture of goodwill. Ironically, the photograph was posted on Imgur!
The photograph of his dog aside, the immediate correction and admission of his mistake seems to have won quite a few hearts on Reddit. Users posted, commenting favourably, on Jones' actions.
"The best way to deal with f*****g up as a company I think is to literally just say 'hey we f****d up, sorry, we know we did bad' When companies try to sugar coat it and dance around the issue it just makes them sound like morons. We all already know they fucked up, they're not fooling anybody. When a company is simply HONEST, I gain the respect I lost when they messed shit up back," AllDizzle commented.
"Zuckerberg Don't Fire This One He's Cool," nihil1537 wrote.
On a more formal note, Facebook has yet to comment on the matter.