Facebook's daily mobile users outnumber desktop users for the first time as mobile accounted for 23 percent of the company's revenue.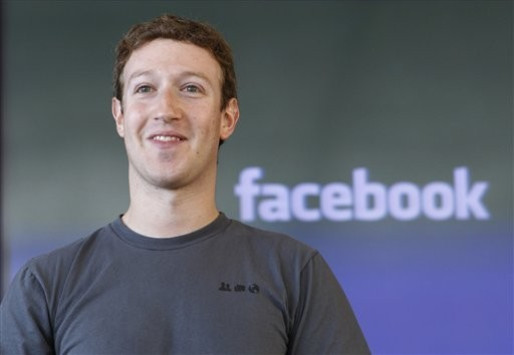 Despite revenue growing by more than 40 percent compared to the same period last year, Facebook's shares were down in after hours trading. However it is the move from desktop to mobile which is the most significant news from Facebook's most recent earnings report is the move to mobile - and crucially the ability to monetise that change in user behaviour.
Revenue grew year-on-year by 40 percent to £1.585bn (£633m) but profits were down to just $64m compared to $302m in the same period the previous year. However this is the first net profit Facebook has reported since it went public in May of last year, up from a net loss of $59bn in the last quarter.
Facebook's monthly active user base passed the billion mark in the final three months of 2012, with daily active users up to 618 million, a growth of 28 percent year-on-year.
Mark Zuckerberg said: "We're now [seeing] more than a quarter of [users'] time spent in apps. Facebook is a mobile company." While the majority of monthly active users has been on mobile for a number of months now, it is the fact that active daily users on mobile outnumbered those on desktop which signifies the definitive move to mobile.
Revenue
In the previous quarter Facebook reported that revenue from ads on its mobile apps (smartphone and tablet) accounted for 14 percent of its revenue. Today mobile accounts for 23 percent of just over $302 million (£194m).
While this seems like solid growth in mobile, it was a little less than some analysts expected and this may account for the drop in share price.
"Mobile revenue was expected to be a little higher," said Aaron Kessler, an analyst with Raymond James, who said he was looking for mobile revenue to be 25 percent of total ad revenue. "Overall solid quarter but maybe high expectations going into the quarter."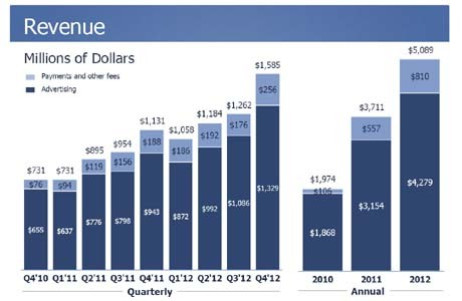 Mobile was one of the main topics of the earnings call with analysts too after the results were published with one asking about persistent rumours of a Facebook-branded mobile phone. Zuckerberg made it pretty clear that this is nothing but a rumour: "We're not going to build a phone."
Mobile ads
Zuckerberg also said he believes users don't mind more ads on desktops or mobile apps:
"What we really expected was to not be able to show everyone an ad every day because we weren't sure we had the quality up front. We've been surprised the quality has been naturally high, there's basically no engagement hit at all. We've had them rolled out and can go straight into doing things to improve targeting and the ad format."
Zuckerberg was also drawn on the various mobile platforms his social network is available on, saying for him there were three main platforms: iOS, Android and mobile web. However it was his comments about Google which were most interesting.
"Even though our relationship with Google is one where the companies don't really talk, it works because it's an open platform."
Advertising revenue accounted for the vast majority of Facebook's revenue ($1.33bn) and David Eibersman, Facebook's Chief Financial Officer admitted that the move away from the desktop had hit games revenue hard, which is further bad news for troubled social games company Zynga.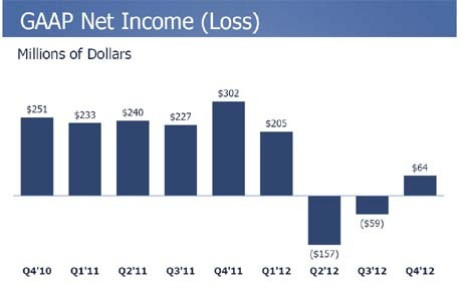 However he also spoke about new products coming online for advertisers, including one which will allow them to upload their customer databases directly to Facebook for more targetted advertising.
Average revenue for each user in 2012 was $5.32 but in certain territories it was much higher, such as the US and Canada where it was $13.58, showing how much Facebook could improve its sales in other territories.
Speaking of which, the verage price per ad impression down four percent, which Eibersman blamed on growth in developing markets where prices are lower, dragging down the average. In contrast, the average price in the US was up 18 percent.
This all goes to show that Facebook has huge growth potential in less developed markets.
Expenses
Expenses in the final three months of 2012 grew by 82 percent to $1.06bn, which was as a result of investment in staff and new products. Eibersman also admitted that Facebook's expenses were expected to rise bya further 50 percent in 2013 as it invested heavily in hiring and infrastructure.
Facebook's shares, which have been as low as $17.55 since opening in May at $38, have seen something of a resurgence in recent months, closing on Wednesday at $31.24.
However in after-hours trading following the publication of the results, the shares are down almost four percent (as of 11.30pm GMT).