Fast & Furious 7 Wraps Up Filming: Tyrese Gibson Posts Heartfelt Message Remembering Paul Walker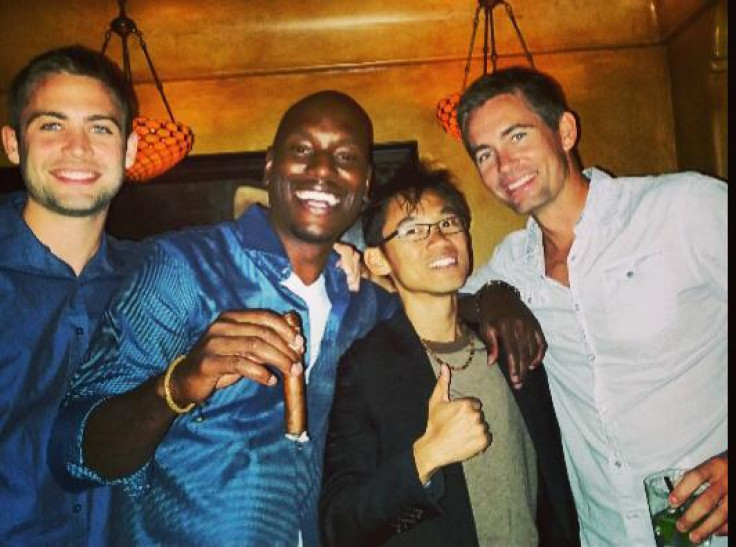 The filming of Fast & Furious 7, the last installment in the long-running movie franchise, has officially wrapped.
An emotional Tyrese Gibson posted a picture of himself with Caleb and Cody Walker, the late Paul Walker's brothers, alongside director James Wan on his Facebook account, with the heartwarming message:
#Fast7 Wrap Party........ Emotional and bittersweet..... In the end you always got #Family Cody Walker- Caleb Walker and Director Great.... James Wan...... Through prayers and determination and moving forward inspired by my heart Paul Walker we got through..... The BEST CAST AND CREW IN THE WORLD.... The fans and supporters around the world... We LOVE YOU...... I wanna dedicate this moment to my strong little niece Meadow Walker.... Uncle Ty loves you..... April 3rd the were gonna unleash this magic on the world................ I miss you heart.... I miss you P-Dub!!!!
On 30 November, Walker was on his way to a charity event with his friend and business partner Roger Rodas when the red Porsche Carrera GT driven by Rodas, lost control and smashed into a tree before bursting into flames. The duo were pronounced dead at the scene.
Meanwhile, there were reports that Vin Diesel was throwing temper tantrums on the set of Fast & Furious 7, and "spent a whole day in his trailer one day."
However, the entire shoot went well and the 46-year-old actor took to his official Facebook page to talk about the wrap up.
Fast Seven is wrapped!
A life changing experience. None of it would have been possible without you... the strength, conviction and confidence came from you, and I know together, we have made Pablo proud.
Fast & Furious 7 will be released on 3 April, 2015 in the U.S and on 10 April, 2015 in the UK.
© Copyright IBTimes 2023. All rights reserved.