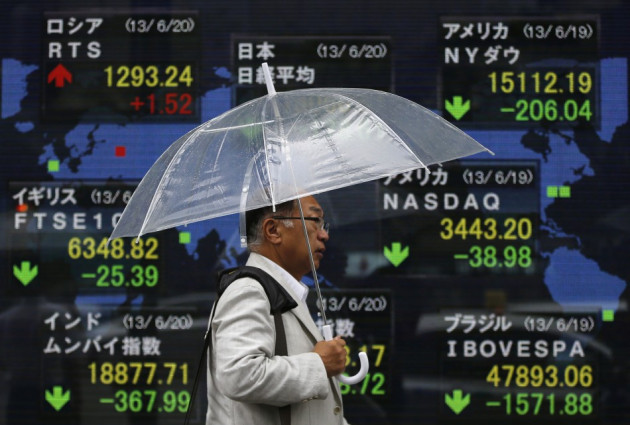 Asian markets dropped on Thursday, taking a double hit from news that the US Federal Reserve could prune its massive monthly asset buys later this year and from Chinese government data that pointed to shrinking factory activity in the world's second biggest economy.
The US Federal Reserve has spent trillions of dollars to stimulate the world's leading economy and its $85bn a month bond-buying program has also stimulated the markets the world over for a while now.
Hong Kong's Hang Seng was down 2.82% or 592.55 points to 20394.34.
The Japanese Nikkei was down 1.79% or 236.60 points to 13008.62
The Shanghai Composite was down 1.71% or 36.58 points to 2107.29, trading at a 2013 low.
South Korea's Kospi was down 2.24% or 42.23 points to 1846.08 points, trading at a 2013 low.
Australia's S&P/ASX was down 2.42% or 117.70 points to 4743.70, pulled down by mining stocks.
Earlier in the day, data from the HSBC manufacturing Purchasing Managers' Index, which polls purchases made by factory managers, showed that China's factory activity dropped to a nine-month low in June.
The reading for June was 48.3, down from May's final reading of 49.2, below the 49.1 forecast by economists polled by Bloomberg. A reading below 50 indicates contraction.
In the afternoon on Wednesday, speaking at a press conference in the US after the two-day Federal Open Market Committee (FOMC) meet, Federal Reserve Chairman Ben Bernanke said the central bank could begin to reduce its bond-buying program later this year if the US economy continues to improve, as Fed officials expect it to, and could end its purchases by mid 2014.
The FOMC, the Fed's powerful rate-setting committee, concluded its fourth meeting of the year on 19 June.
"Based on the chairman's comments and our unemployment rate forecast, we now expect a reduction in the pace of asset purchases to $70bn per month at the September meeting ($35 billion in Treasuries and $35 billion in agency MBS).
"Based on our outlook for the unemployment rate to fall to 7.0 percent in Q1 14, we expect asset purchases to be concluded by March 2014, a bit earlier than the mid-2014 expectation the chairman indicated in the press conference," said Dean Maki, the chief US economist at Barclays.
On 19 June, Wall Street ended lower following Fed chief Bernanke's comments. The Dow dropped 206.04 points or 1.35% to finish at 15,112.19. The S&P 500 fell 22.88 points or 1.39% percent to close at 1,628.93, while the Nasdaq was down 38.98 points or 1.12% to end at 3,443.20.
In Hong Kong, gold miner Zijin Mining fell 4.1%. Index heavyweight China Construction Bank's stock was down 4%, while shares of Industrial and Commercial Bank of China were down 3%. The banks Shanghai-listed shares shed 1.3% and 1.5% respectively.
In Shanghai, shares of oil and gas major Cnooc dropped 4.4%. Shares of Great Wall Motors,Kingray Tech and Xisco lost 4% each.
Minsheng Bank's stock dropped over 4%, Pudong Development Bank's stock was down 3.5%, while Agriculture Bank of China lost 2.6%.
Jiangxi Copper was down 1.6%.
In Sydney, mining equipment rental firm Emeco Holdings' stock plummeted 18%.
Iron ore miner Fortescue Metals tumbled 6%, partly owing to the company cutting its outlook for exports, while Gindalbie Metals' stock fell 11.5%. Shares of gold miner Perseus Mining dropped 12%, while Newcrest Mining shed up 2.7%.
Banking stocks were pulled down by a weaker Australian dollar, which hit a 33 month-low against the greenback. Westpac Banking's stock was down 3.9%, while Commonwealth Bank of Australia lost 2.9%.
In Tokyo, camera maker Nikon's stock dropped 4.8%, while Hitachi Construction Machinery's stock dropped 4.5%.
Shares of energy producer Inpex fell 3.6% in Tokyo.
Sumitomo Realty and Development fell 3.3% while rival Mitsui Fudosan's stock was down 1.7%. Retail group Seven & I Holdings' shares were down 2.9%.
However, shares of some automobile exporters gained as the US dollar strengthened, against the yen. Mazda Motor moved up 3% while shares of rival Fuji Heavy Industries, which makes Subaru cars gained 1.3%
In Seoul, index heavyweight Samsung Electronics was down 2.5%, while LG Displaylost over 3%.
Korea Zinc was down 2.5%.