The finale to the 2012 Formula 1 season in Sao Paulo on Sunday will produce one of those rare sporting occasions where a sports' two finest competitors will go toe-to-toe with the biggest of prizes on offer.
Although Lewis Hamilton would have plenty to say, Alonso and Vettel represent the gold standard in modern-day Formula 1 driving. Even if you take the 2012 season in isolation, the manner which both have dealt with adversity, mainly in the case of the Spaniard, and excelled in moments of triumph will make either a worthy champion come the end of the campaign.
Debate has reigned over which of the pair is the more deserving champion, with Vettel's resourceful driving when Red Bull have been off the pace in stark contrast to Alonso pulling points and podiums out of the fire.
Saturday qualifying has been a nightmare for Ferrari. Only twice has Alonso qualified on pole this year, while his German counterpart has started 1st on six occasions this season. It's therefore remarkable that Alonso only trails by 13 points going into the final weekend, let along that he is even in the hunt for the title.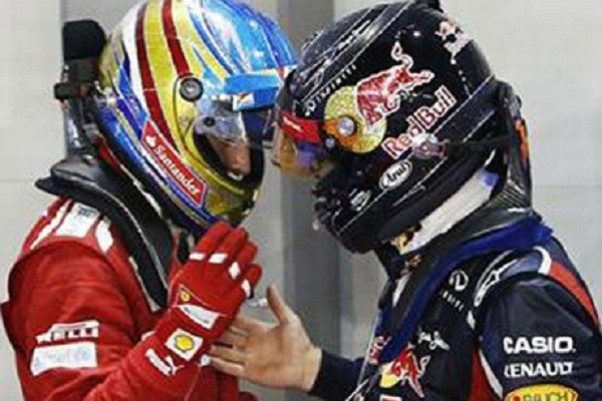 Rarely do we have a season that goes by without event; seven different winners of the first seven races for the first time in the sports' history, the fire in the Williams garage, Hamilton's contract wrangle with McLaren and Michael Schumacher's eventual retirement; all of which will be overshadowed come Sunday evening.
In winning the 2012 title, both Alonso and Vettel will become immortalised the F1 history. Both have claimed two drivers' championships, Alonso in consecutive years in 2005 and 2006, while Vettel has victories in each of the last two seasons.
A third title would see them join the likes of Nelson Piquet, Niki Lauda, Jackie Stewart, Jack Brabham and perhaps the greatest of them all; Aryton Senna. For Vettel, a third consecutive title would draw him level with Juan Manuel Fangio and Schumacher as the only drivers to have won three on the trot.
So while this matchup may be regarded as the fitting end to the F1 season, it goes far beyond just a farewell to the campaign. The eventual victor's name will be up in lights in motor-sport history.