FIFA: After Fabrice Muamba 'Defibrillator Needed at Every Match' [VIDEO]
Medical Conference in Hungary addresses the 84 fatal cardiac arrests suffered by footballers last year.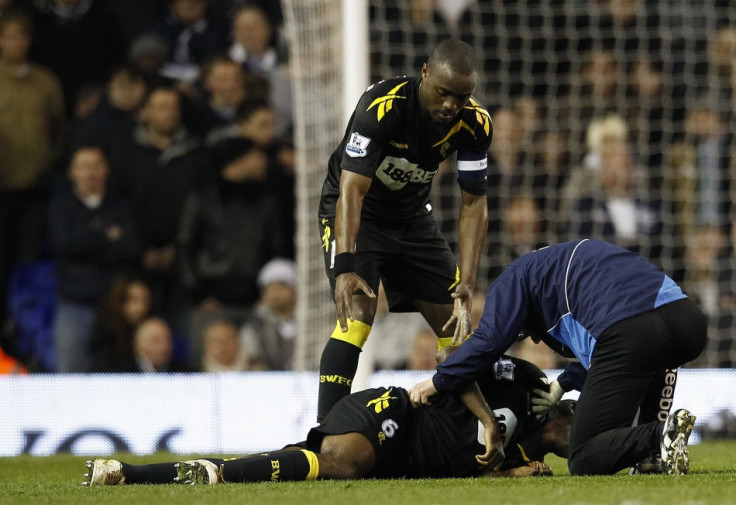 FIFA have urged that a defibrillator is needed on every football field if sudden cardiac deaths are to be prevented. Speaking at the 2nd FIFA medical conference in Budapest, Hungary, the chairman of the committee Michel d'Hooghe stated:
"We came to the result that over the last five years we had 84 fatal cases of sudden cardiac deaths on our football fields and 24 cases of sudden cardiac arrests; that means it was a good result. What is also important is the lessons that we learnt from that questionnaire that only in 20% of the cases there was a defibrillator present at the field or around the field."
"There must be an absolute need of a defibrillator on all the football fields so if there is one word that we would like you to take away from here it is please let us have a defibrillator at every football field because that can be a matter of death or life."
His comments come after separate cases in the last two months where two footballers suffered from cardiac arrests.
The plight of Fabrice Muamba shocked the nation after the Bolton Wanderers midfielder collapsed during an FA Cup match against Tottenham Hotspur on March 17. Treated on the field for his sudden cardiac arrest, it was reported that the player's heart stopped beating for 78 minutes, before he finally recovered at the London Chest Hospital. One month later on April 14, tragedy struck as the Italian footballer Piermario Morasini died whilst playing for Serie B side Livorno.
Fatal cardiac arrests during football matches have been on the rise in recent years, with 16 deaths in the last five years alone. Other high profile players to have died whilst playing include Cameroonian international Marc-Vivien Foe, and Spain U-21 player Daniel Jarque.
D'Hooghe's comments were backed by Jiri Dvorak, FIFA's chief medical officer. He stated that whilst fatal heart attacks for footballers was below the statistical average, having defibrillators at all matches would significantly increase the chances of any players who suffers a cardiac arrest on the field.
"For me those 84 cases are not alarming results but it only shows that it exists and comparing to the incidents among normal population one to 200,000 we would expect with 300 million football players approximately 1500 deaths around the world per year."
"We do not know the figure behind, but definitely sport makes us aware of this number of nameless people who might be dying due to not known underlying disease. And here in the future we will push the research strongly in support of FIFA to get more information about the underlying pathology from the cardiological part but more important even from the ethnical differences and the genetic predisposition so the research will go very much into the genetics of the sporting people."
Dvorak went on to say that players should also take responsibility by not feigning injuries, a view shared by English referee Howard Webb at the conference.
Webb, who was refereeing the match when Muamba collapsed, stated that there was a danger that players, 'crying wolf', could leave referees unsure of whether an injury is serious or not.
"One of our obligations as a referee is to try and observe fair play and keep the game flowing when we can. But, if players cry wolf too many times, then there is a possibility that maybe we will not react in the way we need to do based on what we saw there."
"If we come under criticism for stopping the games too many times for doctors or physisos to enter the field of play then referees might be inclined not to stop the game."
© Copyright IBTimes 2023. All rights reserved.