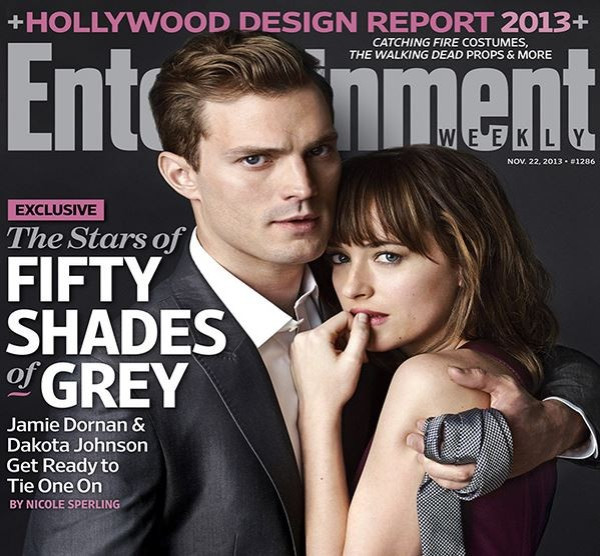 Irish actor/model Jamie Dornan and American actress Dakota Johnson showed off their chemistry as Christian Grey and Anastasia Steele in the first shoot for Fifty Shades of Grey.
On the cover of Entertainment Weekly, the 31-year-old actor is seen hugging Johnson, with a grey tie entangled on his hand.
"I'm a fairly worldly guy. I grew up in a very liberal place. I'm not saying we had a playroom, but I'm not shocked by [the sex in the book]. It's essential to tell the story. I can't believe films that don't invoke the sexual side of it. So it works for me," he said of his character.
The 24-year-old daughter of actors Melanie Griffith and Don Johnson, is also excited to go nude on-screen and have been working out to get into shape.
"Obviously, I want to look good naked," she said, "I totally understand now why people exercise, because it kind of f—ing feels awesome."
Meanwhile, author of the best-selling erotic novel EL James talked about casting Charlie Hunnam initially for Grey role.
"It was very mixed and I had to get off Twitter for a couple of days. I wasn't surprised. People hate change. I thought there would be a few people upset, regardless of whom we had chosen. It was intense, but people came around to it," she said, "It was disappointing (when he backed out), but it is what it is. I wish him well. And now we have Jamie [Dornan], and that's great. It's been interesting with Jamie, [the fan reaction] has been so positive."
The 50-year-old also shared the feeling of handling such a huge project.
"I'm terrified. Completely. I've been terrified from the moment I published the book. My mother was terrified of everything, and so am I. It's a terrible way to grow up. You don't expect this kind of success. Even now it floors me. My only ambition for the books was to see them in bookstores. This is huge. And there is this passionate fandom; we need to get this right for them," she added.