From vast wood and paper manufacturing plants, through the rise and fall of Nokia, to tiny startups earning millions of pounds per day, the Finnish technology industry isn't afraid of reinventing itself.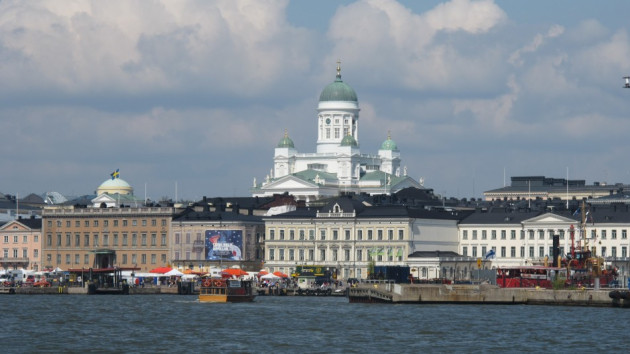 Where there were once hundreds of Nokia employees working at the very cutting edge of mobile phone technology, a large glass office complex just outside Helsinki is now almost completely empty, save for two small startups with enormous potential and plans to be the game changers as Nokia once was.
Smartphone maker Jolla and mobile game developer Supercell take up two of the building's ten floors, a building which is eerily quiet while the rest of Helsinki goes about its working day. Despite the quiet, the building is home to two of Finland's most exciting technology startups who may not have existed if it wasn't for Nokia's recent downfall.
Fueled by the non-profit, government-funded Tekes investment scheme, the startups of Helsinki are as diverse as they are innovative and are largely founded by former Nokia employees looking to reinvent everything from smartphone apps and hardware to industrial waste management and education.
Nokia jewels
"We're getting the jewels from Nokia and its teams to start again with a new approach," Tekes executive director Jukka Hayrynen said, "the try quick, fail quick approach is what we're trying to achieve."
By this he means rapid pivoting from one idea to another and getting a company's first viable product to market as quickly as possible - an approach recently championed by UK venture capitalist Edmund Truell, but let down by the UK's fear of stumping up major investment in startups with no track record.
A lack of venture capitalists and angel investors willing to inject meaningful amounts of cash is also a problem faced by Finnish startups, whereas large investment in the US is easier to come by thanks to the proven success of Silicon Valley.
Funding
Founded in 1983, Tekes will invest up to €550m (£466m) this year alone, with €135m going to startups. Previous investments include Angry Birds developer Rovio and Supercell, which was recently described as one of the fastest-growing companies in history, raking in £1.6m in revenue per day from just two mobile games.
Unlike a venture capitalist or angel investor, Tekes does not acquire a stake in the companies it funds, and although it will look to earn back its investment within three years, the scheme lets startups create their own payment plans, reducing the risks associated with paying back too much, too soon.
There are currently 75 companies in the Tekes program, and while some applied for funding after establishing a creditable business plan, the scheme welcomes anyone who has nothing more than an idea and encourages startups to pivot from one plan to another if they don't find an idea that sticks. In an economy where the venture capitalist market has fallen from €90m annual investment in 2007 to €39m in 2012, Tekes "is making investments every week," claims Hayrynen.
Tekes states that for every €13,000 it invests, one permanent job is created in the private sector, and for small to medium-sized enterprises an investment of €1 produces €21 of annual turnover. Most of Tekes' startup investments are as much as €1m per company." Tekes is funding annually around 600 start-up projects and 35 companies are accepted to the €1m funding scheme (Young Innovative Companies).
Accelerate
Once a startup has this initial funding, it must then look for advice on how best to spend the money, grow its company and attract private investment - this is where publicly-funded Vigo comes in.
Launched by Finland's Ministry of Employment and Economy in 2009, Vigo is a collection of 10 accelerators all geared towards mentoring startups, achieving growth and attracting private investment; Vigo's portfolio contains 67 startups, including SuperCell.
Much like London startup accelerators Future 50 and Level 39, Vigo is geared towards helping startups reach a global market by offering advice and mentoring from experienced entrepreneurs. Vigo aims to help startups reach a Series A funding round within 18 to 24 month.
Vigo was founded as a "temporary intervention" making up for reduced venture capitalist funding and uses public money to accelerate startups to a position where VCs would be more likely to show interest and invest capital. Startups then return the funds to Vigo through corporation taxes paid to the Finnish government over an agreed number of years.
The intensive nature of Tekes and Vigo encourages startups to pivot and "fail quick" until they become a success and find a buyer. Most buyouts see startups expand to the US or elsewhere in Europe, but 90% of these 'exited' Tekes companies continue to see an increase in Finnish growth once they are acquired by a foreign company, thanks to the groundwork already laid there.
Time is money
UK tech startups have criticised the government for its finance application process taking too long and demanding fully-formed business plans with working prototypes, whereas Tekes will take a single entrepreneur with an idea and aims to provide a funding decision within 70 days of them making an application.
Another criticism of the UK's handling of Tech City is its apparent bias towards spinning positive PR instead of making investment more widely available.
By contrast, the Finnish government has largely avoided this and instead made an investment decision worth €45m into Vigo in 2009 and set a target to return the money through taxes paid by successful startups by 2015; Vigo hopes this will be fully returned in 2013 and once the six-year plan ends in 2015 it will hopefully no longer be needed, as VCs will have returned to the growing market and will be more willing to invest in unproven startups.
By borrowing public money to boost private investment, Finland has taken a shortcut to success that shows no sign of slowing down. No one knows exactly what will happen when the training wheels of Vigo are removed in 2015, but with Rovio and Supercell leading the way, that almost deserted former Nokia building could soon be swarming with activity once again.