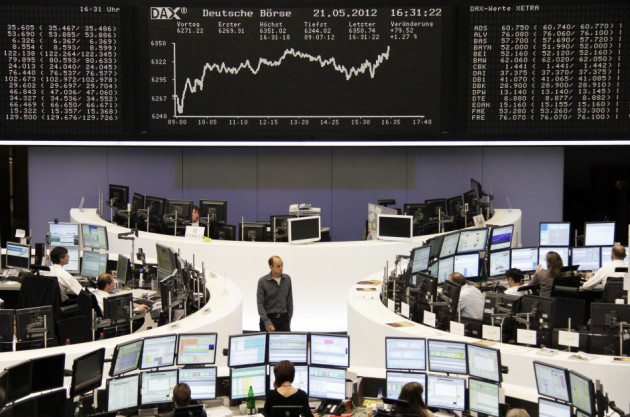 European shares tested the highest levels of the year as investors bet on a lasting political solution to the fiscal deadlock in the United States.
Britain's FTSE 100 index is just 30 points shy of its 2012 peak - reached in late March - after a modest gain of around 0.34 percent Tuesday pushed the benchmark to 5,932.62 points by mid-afternoon London time.
The broadest measure of European share price performance, the FTSE Eurofirst 300, is also within touching distance of its highest point of the year after advancing 0.3 percent to 1,136.01.
Germany's benchmark DAX rose by 0.32 percent to reach the highest intra-day level - 7,626.25 - since at least 2008. The single currency traded at the highest level in at least seven months against the US dollar, rising 15 ticks on the day to change hands at $1.3178.
A worldwide survey of fund managers with more than $660bn in assets, published Tuesday by Bank of America Merrill Lynch, suggests confidence in the global economy is increasing and optimism that China's leaders have engineered a lasting recovery reached the highest level the survey has ever recorded.
"The bulls are back in China, while policy makers elsewhere put bears onto the back foot. If the bulls are to claim a decisive victory, we need hard evidence that the economy is reaccelerating," said Michael Hartnett, chief investment strategist at BofA Merrill Lynch Global Research.
Investor confidence was given a boost yesterday after news that US President Barak Obama was prepared to offer a $200bn concession on tax increases to Republican House Speaker John Boehner in an effort to avoid the so-called 'fiscal cliff' deadline of 1 January.
The BofA/ML survey found that while the fiscal cliff impact remains the single largest investor concern, that view was held by around 47 percent of its respondents, down from 54 percent in November.
The optimism wasn't limited to global stock markets, either, as debt-stricken Spain was able to sell more than €3.5bn in short term treasury bills with lower average yields than in previous market auctions. The sale came just minutes after the Bank of Spain said bad loans on the books of the nation's lenders rose to a record 11.2 percent of total portfolios in the month of October, a €7.4bn rise from the previous month.
In Britain, the Office for National Statistics said consumer prices increased at a rate of 0.2 percent on the month in November, taking the annual pace of inflation to 2.7 percent - unchanged from October and the fastest since early May.
Sweden's Riksbank cut its key lending rate by 25 basis points - to 1 percent - saying "weak developments in the euro area" and stagnant domestic labour markets were having an impact on the Swedish economy.
European equity gains were limited, however, by a report from Reuters suggesting the German Economy Ministry was set to mark down its growth forecasts for the coming year. Deputy Minister Bernard Heitzer told the news agency that "from today's perspective, there will be a need to revise downwards" adding that a "decline in growth in the fourth quarter is therefore on the cards".
Germany's Federal Statistics Office said last week that the country's trade surplus narrowed to its lowest level in more than six months, hitting €15.2bn (£12.2bn/$19.7bn) in October thanks to a small 0.3 percent rise in exports. Industrial production for the month fell a steeper-than-expected 2.6 percent.
Two weeks ago, the Bundesbank lowered its 2013 growth forecast for Europe's largest economy to 0.4 percent for next year, down from a June forecast of 1.6 percent.