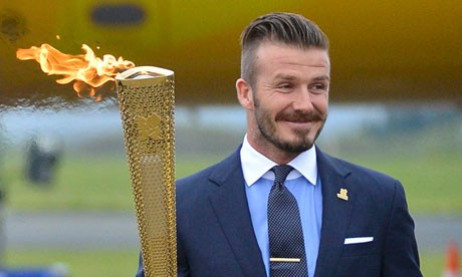 He has only just announced his retirement from football but Tinseltown is already calling David Beckham.
The 39-year-old football ace is reportedly preparing to trade in his boots for a script after being tipped as the next big film star.
Although he is yet to confirm his future career plans, he already has the support of some of Hollywood's biggest names.
Harvey Weinstein, legendary film producer and founder of Miramax Films insists the father-of -four is a star in the making.
"David can be anything he wants, including becoming a movie star. He doesn't need any advice from me, he can do anything he wants," Weinstein told the Sun.
"I have only met David a few times but each time I find his talents more and more impressive. I am a real fan. I think he could do anything he wants in TV and film."
Mission Impossible actor, Tom Cruise, has also promised to help Beckham learn the ropes.
"Beckham still loved soccer but feels that now is a great time to transition into film while he's still young enough to land top-notch roles," the source said.
If Beckham does make a successful transition from sports to the big screen, he will be following in the footsteps of a host of ex-footballers like former Manchester United legend Eric Cantona who is now an accomplished actor appearing in over 20 films and former Crazy Gang member Vinnie Jones who successfully made the switch from football pitch to film pitches. In other sports basketball legend, Michael Jordan, also retired from the NBA to star in 1996 film Space Jam.
The former England captain, who has previously claimed he was 'too stiff' to pursue acting roles, made his film debut alongside Zinedine Zidane and Raúl, in the 2005 film Goal!: The Dream Begins.