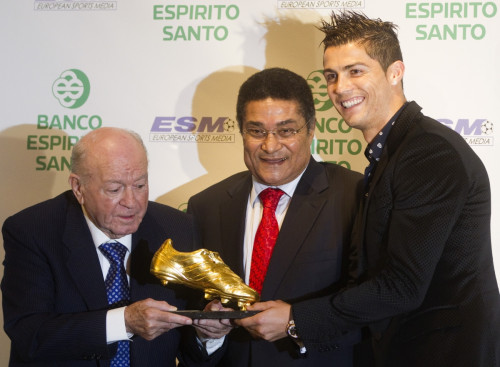 The Portugal and Benfica striker Eusebio - also known as the Black Pearl - - has died at the age of 71, reportedly from cardiac failure.
Born in Laurenco Marquez, now Mapatu, the then-Portuguese colony of Mozambique, Eusebio - Eusebio da Silva Ferreira to give him his full name - went on to play 64 times for Portugal, scoring 41 goals - a record that stood until overtaken by Pauleta in 2005.
At the 1966 World Cup eventually won by the hosts England he emerged as the tournament's top scorer with nine goals - including four in a 5-3 victory against North Korea. Portugal finished third.
Known for his ferocious shooting ability and silky skills the player spent most of his career with Benfica, with whom he won the European Cup (now the Champions' League) in 1962. He was named European player of the year in 1965. In the course of his career he scored a staggering 733 goals in 745 competitive matches.
Even in an era of George Best and Pele Eusebio was world-renowned and many regard him as among the finest who ever played the game. He was revered both in Portugal and in Africa, where he first played football with a newspaper stuffed into a sock.
Eusebio's biographer, Joao Malheiro, said he had witnessed a deterioration in the star's health in recent years but that he should be remembered for what he had achieved as a player:
"What's most important is to remember the man who was, and always will be, in the place of the immortals of this country and was clearly of emblematic importance for Portuguese in the 20th century, above all during the 1960s when Portugal lived under a dictatorship."
Footballers past and present paid tributes to the great player. Cristiano Ronaldo, with whom Eusebio had a public spat recently, put aside the past when he wrote on Twitter:
Watch some of Eusebio's greatest moments on YouTube, below: