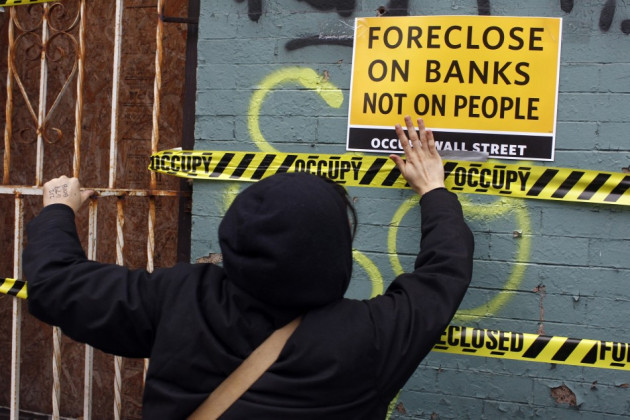 Five of the biggest mortgage lenders in the US will shell out $25bn (£15.8bn) on compensating American homeowners who suffered foreclosure abuses after the property bubble burst in 2008.
An agreement was reached between US states and the five major banks - Bank of America, JPMorgan Chase, Wells Fargo, Citigroup and Ally Financial - to reduce loans for almost 1m homeowners.
Compensation payments will also be paid out, some reaching a quarter of a million dollars, whose houses were improperly foreclosed upon.
Oklahoma was the only one of the 50 states to reject the deal and as a result will receive no money.
The deal means the agreeing states will not pursue legal action against the banks, though individual homeowners, as well as federal and state authorities, are still able to pursue criminal charges.
"There were many small wrongs that were done here," US housing and urban development secretary, Shaun Donovan, said.
"This does not resolve everything. We will be aggressive about going after claims elsewhere."
Bank of America will pay out the most, at nearly $8.6 billion.
Wells Fargo will pay about $4.3 billion, JPMorgan Chase will pay around $4.2 billion, Citigroup will pay about $1.8 billion and Ally Financial will pay $200 million.
These do not include $5.5 billion in federal and state payments.
After the 2008 financial crisis, home values sank and left foreclosure a looming possibility for millions.
Many companies processed foreclosures without verifying documents and some employees signed papers, sometimes using fake signatures, to speed up the foreclosure process - what is known as robo-signing.
Those who lost their homes to foreclosure are unlikely to get their homes back.
Some critics say the proposed deal doesn't go far enough.
They call for a full investigation of potentially illegal foreclosures before any settlement is reached.