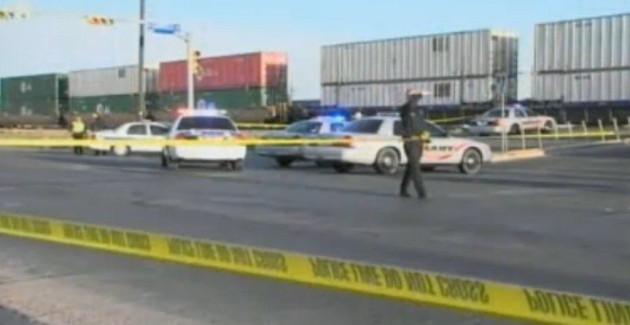 Four people have been killed and a further 16 injured after a freight train crashed into a float carrying wounded military veterans in Texas.
The crash occurred at a railroad crossing in the city of Midland. The float, packed with veterans and their spouses, was part of a convey travelling to a gala dinner when the accident occurred.
According to reports, the float hit by the train was second in line on the parade, with the first passing through safely. A preliminary investigation said the crossing gate and lights were working at the time, and the train sounded a warning horn prior to impact.
Eyewitness Daniel Quinonez said the second float "could not go anywhere because of the other one being right in front of it".
Two people died at the scene, while two others died at the Midland Memorial Hospital from their injuries.
Eleven other people were treated and later released at the hospital. Five remain in hospital, with one thought to be in critical condition.
Midland Police Chief Price Robinson told local media: "I'm standing out here now. It's hard to look at.
"It's a very tragic event, very unfortunate."
Some of the 26 people on board were able to jump off the float as the train approached, creating a scene of mass panic in the minutes before the accident.
Eyewitness Patricia Howle, who was waiting in her car at a nearby traffic light as the train approached, said: "I was on the phone, and I just started screaming.
"The truck was on the other side of the train, but I did see the panic on the faces of the people and saw some of them jump off."
"This might be one of the most tragic events we've ever had in our town," said Midland Mayor Wes Perry.
Following the banquet, the veterans were going to be treated to a deer-hunting trip. Both events have been cancelled.
National Transportation Safety Board spokesman Peter Knudson says his agency is investigating the crash.