Renaud Lavillenie of France has smashed the Olympic record to win the gold medal in the men's pole vault at the London Olympics 2012, with a towering jump of 5.97 metres. The world record is 6.14m. Germany's Bjorn Otto and Raphael Holzdeppe collected silver and bronze medal respectively, after both succeeded in clearing 5.91m, a personal best for Holzdeppe.
Lavillenie and Holzdeppe were the only contestants to clear 5.65m in the qualifiers and despite a run of poor performances in recent competitions, the Frenchman held his nerve in the final to clear his three initial heights of 5.65m, 5.75m and 5.85m with a minimal amount of fuss, before raising the bar with a 5.91m and 5.97m vault in his fifth and sixth attempts. The gold settled, Lavillenie then set his sights on the world record and targetted 6.02m and 6.07m but failed to clear either.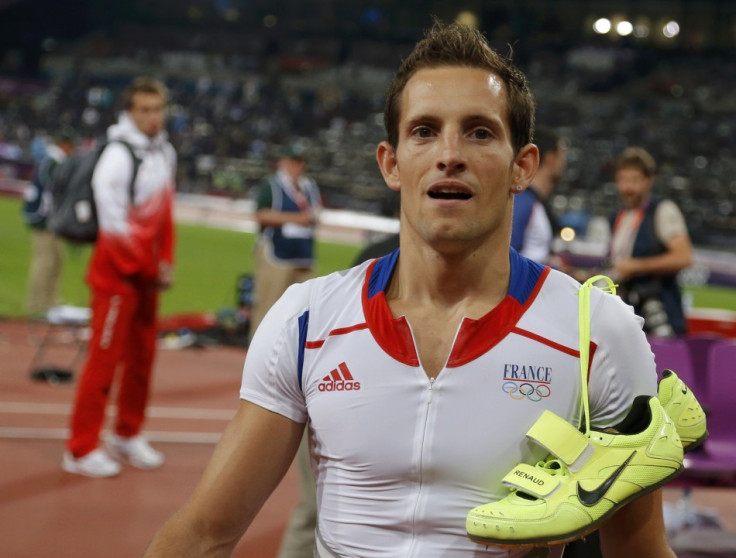 Russian Dmitriy Starodubtsev finished fourth and Great Britain's Steve Lewis and Starodubtsev's compatriot Yevgeniy Lukyanenko (silver medallist at the Beijing Olympics 2008) tied for fifth. Although all three did clear 5.75m jumps, they were ranked on count back. Australian Steven Hooker failed to defend his Beijing title and was recorded as having No Mark. Also eliminated early was another Frenchman - Romain Mesnil - twice a silver medallist at the World Championships.
The final was progressing without any real drama until the front three cleared the 5.85m mark. Then the two Germans, jumping first, each cleared 5.91m, prompting Lavillenie to pull out all the stops and target Hooker's Olympic record of 5.96m. His first attempt failed but his second was successful, and the Germans failed to clear the new height. Otto tried to provide late drama by setting the bar at 6.02m but he was unsuccessful, as was Lavillenie with his next two marks - 6.02m and 6.07m. It didn't matter though. The gold was his.
"I can't really believe it. Maybe tomorrow I will wake up and realise that I am an Olympic champion. The Germans were very strong and they pushed me to my limits. This has to be the best thing in my life," said Lavillenie, according to the International Association of Athletics Federations' (IAAF) website.