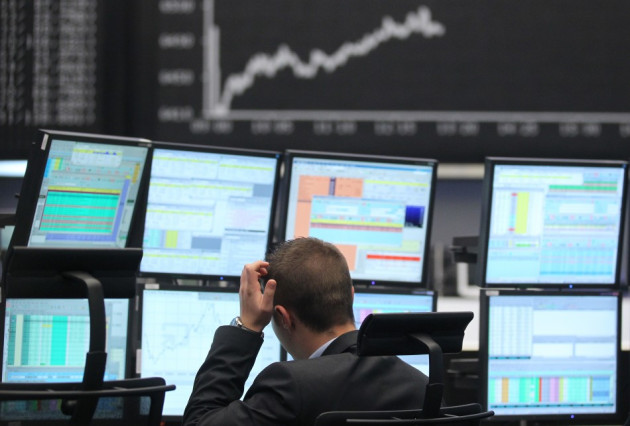 European stocks ended the final trading day of the year on a downbeat note as US lawmakers prepared to make one final effort to end a budget deadlock that could threaten the global economic recovery.
Britain's FTSE 100 ended the shortened holiday session down 0.47 percent, leaving the benchmark with a modest 5.9 percent gain for the full year and a closing level of 5,897.81. The FTSE 250, a broader indication of corporate performance in Europe's second-largest economy that includes smaller, UK-focused companies, recorded a significantly stronger 22.1 percent gain on year to close at 12,374.97.
In terms of individual stocks, government-controlled Lloyds Banking Group was the FTSE 100's best performer, rising 85.3 percent on the year despite a 1.4 percent dip in on the final day of trading. On the opposite side of the ledger, shares in copper and iron ore producer Eurasia Natural Resources Corp fell 55 percent this year.
Most major European markets, including Germany, were closed for the day, leaving activity muted around the few markets that kept trading in the years' final hours.
Global investors, however, remained focused on the eleventh hour meeting of US lawmakers in Washington later today that will be seen as the final "make-or-break" attempt to avert the automatic triggering of a combined $620bn in tax increases and spending cuts, known colloquially as the "fiscal cliff", at midnight in the United States.
President Barak Obama, who returned to Capital early from his annual family holiday in Hawaii last week, was reported to have considered extending a large portion of tax breaks first put into place by the administration of George W. Bush in order to broker an agreement with Republican lawmakers on spending that would bring the two sides closer to reaching an agreement on the country's $1tn budget.
However, detailed discussions between US Senate leader Harry Reid and his Republican rival Mitch McConnell were said to have stalled over tax rates for high-earning Americans and those passing their personal estates onto family members after their death.
Senate meetings are set to reconvene at 11am Washington time.
An agreement will be crucial to the health of the US economy, the world's largest, in the first half of the year with many analysts and investors concerned that the impact of the $600bn-plus measures could turn the fragile recovery into recession.
Markets were given an earlier boost, however, from private data in Asia which showed China's manufacturing sector expanding at its fastest pace in nearly two years this month. HSBC's well-watched Purchasing Managers' Index of factory activity in the world's second-largest economy was measured at 51.5 - a full point higher than that November reading and firmly ahead of the 50 threshold that marks the separation between growth and contraction.
Stock trading in Asia, however, was subdued owing to several of the major markets observance of the New Year's Eve holiday. The Shanghai Composite Index ended 1.6 percent to 2269.13 while Hong Kong's Hang Seng eased 0.04 percent to 22656.92 towards close. Most Asian indices ended the year higher, with the Nikkei leading on the back of the weak yen.