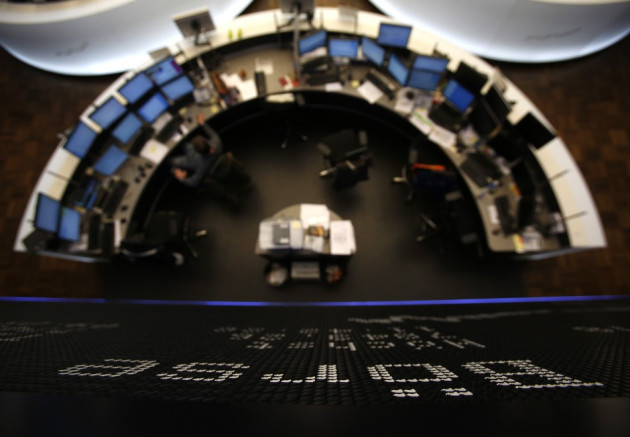 European shares extended gains for the week taking benchmark indices to multi-year highs after increasing signs that Germany's economic recovery will be stronger than anticipated.
UK gains were limited, however, by disappointing data from the Office for National Statistics which showed the British economy contracted again in the final three months of 2012 - the third slippage of the year - raising the prospect of a so-called triple dip recession.
Britain's FTSE 100 held onto slim gains by the time Wall Street opened for trading, taking the weekly gain to just under 2 percent and holding the index less than 60 points from a five year high. The benchmark added added around points, or 0.2 percent, on the session to take it to 6,277.86 points.
Gilts fell, taking the yield on the 10 year benchmark government bond 4 basis points higher to 2.05 percent. The pound sank to its lowest level in more than a year against the European single currency as traders bet the Bank of England may be forced to increase its current £375bn programme of quantitative easing.
Germany's DAX index advanced 94.2 points, or 1.2 percent, following news that domestic business confidence rose for the third consecutive month in January as the recovery prospects for Europe's largest continue to improve.
The Ifo Institute's key Business Climate Index, built from a survey of more than 7,000 senior executives, rose to 104.2 from a reading of 102.4 in December, well ahead of economists' forecasts and the third straight increase from the two-and-a-half year low it hit in October. The Institute's expectations index also increased to 100.5 from a revised 98 in December, while the index of current conditions hit 108, slightly higher than analysts' forecasts of 107.2.
The Institute's head economist, Klaus Wohlrabe, said the figures suggest businesses are beginning to feel the affects of an easing Eurozone debt crisis and that first-quarter GDP should advance by around 0.2 percent
US stocks opened strongly with help from a record-setting quarterly sales report overnight from Starbucks and a 2013 profits forecast increase from Procter & Gamble. The Dow Jones Industrial Average added 19.66 points, or 0.14 percent, at the bell to trde at 13.844.99. The Nasdaq rose 9.57 points, or 0.31 percent to 3,139.95 while the broader S&P 500 lifted by 0.16 percent to 1,497.18, keeping the benchmark within a touching distance of its five year peak.
Around a third of S&P 500 companies have reported quarterly earnings so far this, according to Bloomberg data, with around 76 percent exceeding profit estimates and 67 percent reporting stronger-than-expected sales.
European and US equity markets were also buoyed by news from the European Central Bank that more than half of the 523 banks which borrowed long-term cash in one of its special liquidity operations last year had elected to pay back the funds early.
Around €137.2bn in from the ECB's "Long Term Repo Operation", or LTRO, will be paid back, according to data published today. That represents around 28 percent of the €489bn lent by the ECB in January 2011 during the first of its two pushes to inject around €1tn into the sagging Eurozone economy.The bigger-than-expected payback suggests banks are finding it easier to borrow money privately and could be seen as a signal that lenders are beginning to show signs of broader economic optimism.
From a market perspective, however, the early returns - which were well above the €85bn consensus - resulted in higher bond yields as traders calculated the impact of less active cash in the overall economy as a form of effective monetary tightening. Benchmark 2 year German yields, known as the Schatz, rose to an 11 month high of 26 basis points while Bund futures fell to 142.78.
The euro, which has been gathering strength most of this week following the strong German data, tested one-year highs against the dollar of $1.3456 following the ECB announcement and two years highs against the yen of 122.49.