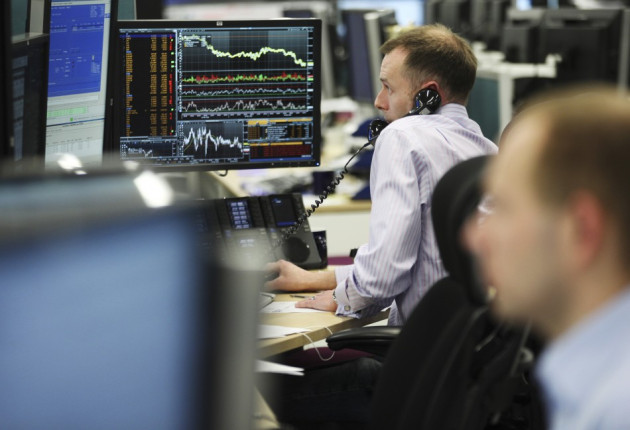 UK stocks hit the highest levels in nearly five years as investors continue to bet on a solid global economic recovery even as signs point to a potential triple-dip recession in Britain.
The benchmark FTSE 100 passed the 6,300 mark for the first time since May of 2008 after a modest 17 point gain Monday that followed strong stock performance in Asia and Europe. Germany's DAX index also slipped past a five year high to trade as high 7870 before retreating to a 1 point loss on the session. The region wide FTSE Eurofirst 300 was little-changed at 1,175.73.
US stocks opened the week in a bullish mode with the Dow Jones Industrial Average rising 13.72 points, or 0.1 percent, to 13,909.7. The S&P 500 was little changed at 1,502.85 while the Nasdaq added 3 points, or 0.1 percent, to be quoted at 3,152.71 immediately after the bell.
The equity market performance was a marked contrast to trading in the foreign exchange markets, where the pound fell to multi-month lows against both the US dollar and the European single currency.
With the bulk of profitability of the FTSE 100 companies coming from overseas and the government bond market largely supported by £375bn in purchases by the Bank of Bank, investors have few options outside of the currency market to express concern about the state of Britain's moribund economy.
The drive took the pound to 1.5705 against the Greenback, the lowest level since at least August of last year, and to a 14 month low of 85.50 against the euro.
Some of the downward pressure could also be attributed to weekend comments from Mark Carney, the incoming governor of the Bank of England, who suggested during a question and answer session at the World Economic Forum in Davos that central bank policies that ignite faster growth will likely add a parallel tolerance of faster inflation.
"Expectations for further policy easingfrom the BoE are set to be fuelled by Carney's comments- most likely good news for Gilts but negative for Sterling- at least short-term," wrote Societe Generale strategist Michala Marcussen in a client note.