European Shares Slide as Currency Markets Take Centre Stage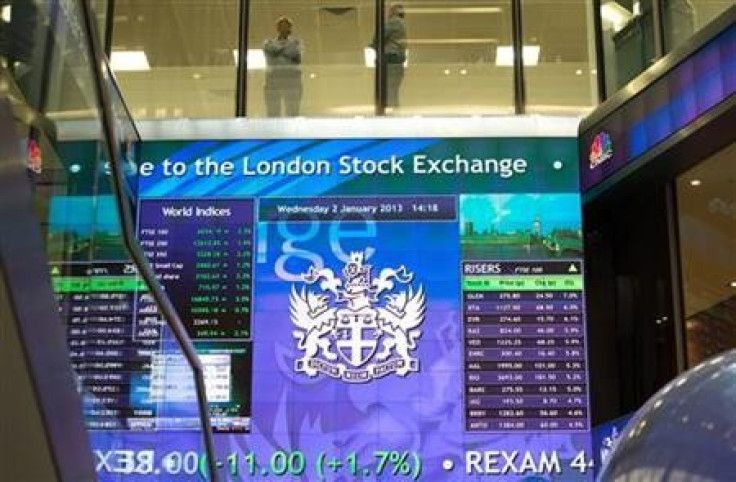 Currency trading dominated European financial markets as investors shifted focus away from equities amid multi-year lows for the yen and stronger anticipated economic growth in Britain and the United States.
Britain's FTSE 100 was little changed from its Friday close - which was the highest in four and a half years - and was quoted at 6,117.90 by the time US stocks began trading on Wall Street. The region-wide FTSE Eurofirst 300 slipped 1.92 points, or 0.17 percent, to 1,161.59.
The biggest mover of the session in Europe was Dutch logistics group TNT Express NV, which plunged more than 42 percent to €4.79 each after US delivery giant United parcel Service Inc walked away from its proposed takeover following concerns that European anti-trust regulators were preparing to reject the €5.2bn deal.
US stocks were mixed at the open, with the Dow Jones Industrial Average rising 13.36 points, or 0.1 percent, to trade at 13,501.79. The two other major benchmarks, however, fell modestly at the bell with the S&P 500 quoted at 1,470.65, down 0.1 percent and the Nasdaq down 0.34 percent at 3,115.13.
In currency markets, the yen fell to a two and a half year low against the US dollar after Japan's Prime Minister used a nationally televised interview to once again challenge his central bank Governor to do more to ignite inflation and revive the fortunes of the world's third largest economy.
Shinzo Abe said Japans needs "bold" monetary policy and wants the Bank of Japan to implement a 2 percent inflation target that should be pursued immediately rather than over a longer-term schedule preferred by BoJ Governor Masaaki Shirakawa. There are also reports that Japan will deploy a $600bn fund to purchase foreign government bonds as part of its latest effort to weaken the yen.
"The BoJ basically says it sees 1 percent inflation as a loose goal," Abe said during a Sunday interview with the public broadcaster NHK. "That doesn't show it's responsible to achieve it and doesn't show strong determination."
The yen fell to 89.68 against the US dollar in overnight trading, the lowest level since June 2010, before settling into back to 89.35 during European hours. It also hit a 20-month low against the European single currency.
Britain and the US are showing the strongest signs of recovery in the developed world, the Organization for Economic Cooperation and Development said Monday, citing its November data on leading economic indicators for its 33 members. China and India are leading the way in the emerging markets, the Paris-based group said, while growth prospects for both the core and the whole of the Eurozone are starting to improve.
However, the forward looking-survey came just hours before a disappointing read of industrial output for the same month, which Eurostat said fell by 0.3 percent from October and a deeper-than-expected 3.7 percent from November 2011.
British business confidence, output and employment slumped in December according to a series of indexes compiled by accountancy firm BDO LLP, a decline "potentially resulting in a triple-dip recession".
It comes after a raft of data from the UK economy all but confirmed most economists' prediction that GDP contracted in the final quarter of 2012. Many expect a return to marginal growth in the first three months of 2013, but recent disappointing performance from significant parts of the economy suggests this slight recovery is hanging in the balance.
BDO said its business confidence index fell to 90.3 in December, down from the previous month's 91.4. Its output index gave a 93.1 reading, a fall from November's 93.4 mark and below the neutral 95 number that implies growth rather than contraction.
Benchmark 10-year UK Gilt yields feel around 4 basis points, or 0.04 percent, to trade at 2.05 percent following the European data release while the pound rebounded marginally from a 10-month low of 83.04 pence against the euro to trade at 82.95.
© Copyright IBTimes 2023. All rights reserved.