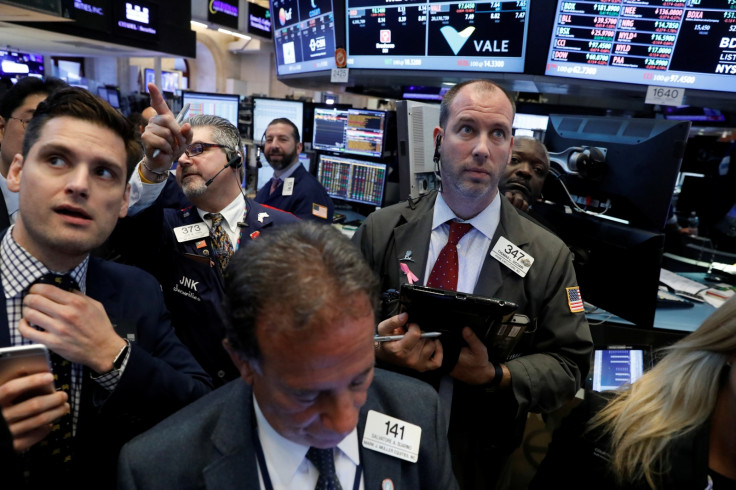 US markets rebounded on Thursday (18 May), following steep declines the previous session following a boost in tech stocks and positive data, as investors reevaluated President Donald Trump's chances of passing his pro-growth agenda.
"What happened yesterday was interesting. You had a complete removal of any Trump premium," Randy Warren, chief investment officer at Warren Financial, told CNBC. "What's happening now is the fundamentals are taking over."
But the worst may not be over. "Even though optimism for Trump's pro-growth agenda has mostly unwound, if this political crisis depends and elevated volatility persists, equities could see further weakness in the short-term driven by deleveraging across fundamental and systematic strategies," JP Morgan wrote in a note to clients.
The Dow Jones Industrial Average, which dropped more than 370 points on Wednesday, rose 56.09 points, or 0.3%, to settle at 20,663.02. The blue-chip average was led higher by shares of Wal-Mart Stores Inc, up 3.2% following better-than-expected earnings, MarketWatch reported. The Dow's gains were tempered by shares of Cisco Systems Inc, which dropped 7.2%.
The S&P 500 index gained 8.69 points, or 0.4%, to end at 2,365.72. Nine of the index's 11 sectors closed higher, with telecom, consumer-discretionary and tech sectors leading.
Meanwhile, the Nasdaq Composite outperformed, climbing 43.89 points, or 0.7%, to close at 6,055.13. Coming off its worst one-day decline since June 2016, the technology-heavy index briefly dropped below the psychologically significant level of 6,000 in opening trade, MarketWatch reported. Tech giants, including Apple Inc, Amazon.com Inc and Facebook Inc, all rebounded with gains of 1.5% or more.
Equities also received a bump from the latest economic data, CNBC noted. Weekly jobless claims reached 232,000, below the expected 240,000. The Philadelphia Federal Reserve business index jumped to 38.8 in May, up from 22.0 in April.
On Wednesday (17 May), US equities suffered their worst one-day loss in 2017 as investors' concerns over Trump rose. The Dow and S&P 500 had their worst day since 9 September, with the Dow losing 372 points, while the Nasdaq suffered its worst day since the day after Brexit. The decline followed a report by The New York Times that claimed Trump had asked former FBI director James Comey to drop the Michael Flynn investigation.
According to MarketWatch, the dollar moved between gains and losses before settling down less than 0.1%. The British pound managed to hit above $1.30 for the first time since September following strong retail sales. Meanwhile, Japan's Nikkei 225 index dropped 1.3% along with a steep rise in the yen.