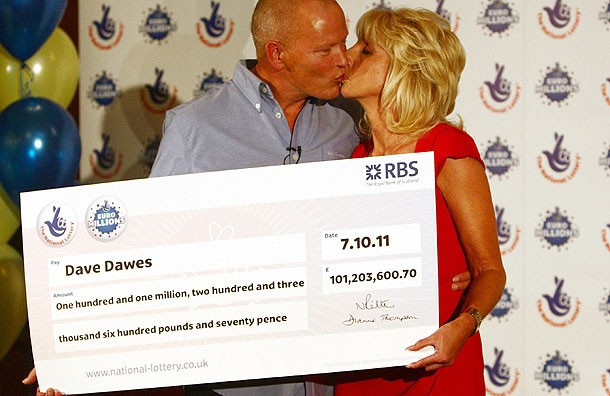 A father who won a £101m ($131m) Euromillions jackpot will not have to pay to financially support his son who had blown the £1.6m he had given him.
Former factory worker Dave Dawes, from Wisbech in Cambridgeshire. and his wife, Angela, won the huge sum in 2011 and gave millions to friends and family, including £1m to his son Michael, 32.
But after a row at a party in 2013 Dave cut the financial support to his son and Michael took his father to court claiming he father was "ungenerous in spirit".
Michael, an Afghanistan veteran, was seeking a ruling that his father should pay him for the rest of his life claiming assurance were given to him that he would always be "looked after".
But Judge Nigel Gerald, at the Central London County Court, dismissed Michael and his partner James Beedle's claim, ruling that Dave does not have to "cough up" financial support for his son.
"There was no basis on which any rational or normal human being could conclude that they could go back for more money whenever they wanted," he said according to the Daily Mail.
His stepmother Angela even gave Michael advice to stop eating at the Ritz and go to McDonald's but instead he blew between £20,000 to £30,000-a-month on a lavish lifestyle which included £1,000 grocery bills.
The judge said Michael "was provided with the funds to have a comfortable life" but instead expected his father to bail him out after Michael and his partner gave up their jobs.
The pair bought a £500,000 house in Portsmouth and nearly £250,000 on Beedle's family and their friends.
The court heard his father regularly topped up his funds when he ran out of money and was left "baffled" when Michael demanded more money in April 2012 after being given £1m in October 2011.
"Michael took this as a demonstration that his father would cough up whenever asked, and this therefore buttressed his strange conclusion that his dad would financially support him for the rest of his life," the judge said.
Michael said he was serving in Afghanistan when his father informed him he had won the lottery saying to his son he "would always be looked after".
But in March 2013 Michael and Beedle were told their debts would be paid but not be given anymore cash.
And in November in the same year, at a family party, Michael and Dave had a fierce drunken row where Angela was abused by her stepson, and the family cut ties.