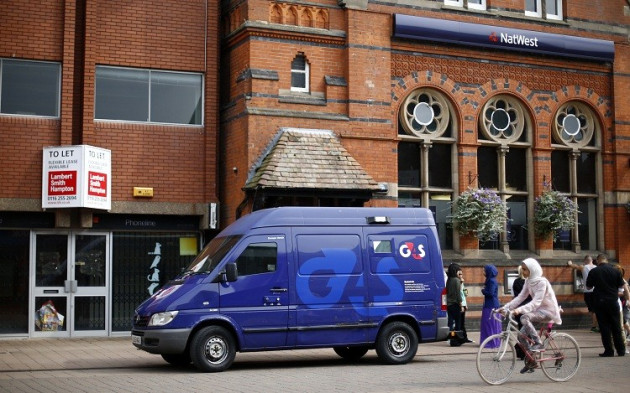 G4S has shot down a "highly opportunistic" £1.5bn bid from Charterhouse Capital Partners for the troubled security and outsourcing giant's cash solutions business.
Under its cash solutions arm, G4S transports and manages physical money as well as looks after ATM machines on behalf of its clients. Almost two-thirds of its cash solutions customers are financial institutions and the business accounted for 24% of G4S's profit before tax in 2012.
G4S has wrestled in recent months with the London 2012 Olympics security fiasco and a probe by the Serious Fraud Office (SFO) into allegations by the government that it defrauded taxpayers on a public contract.
"The Board consider the Group's cash solutions services to be core to G4S' operations and strategic plans," said a statement from G4S, which employs 620,000 people across 120 countries.
"The Board regards the nature and timing of the approach to be highly opportunistic and, following due consideration, with the assistance of financial advisers, the offer has been firmly rejected considering the strategic importance of the cash solutions businesses to G4S and because the Board believes the conditional offer fundamentally undervalues the business and its prospects."
Olympics and Tagging
The reputation of G4S has taken a battering since the London 2012 Olympic Games. It won the contract to handle security at the Games, but failed to supply enough staff so the military and police had to step in. The blunder cost G4S £88m and it was heavily criticised by MPs.
It eventually led to Nick Buckles, the former chief executive, stepping aside from his role after he branded what happened at the Olympics "humiliating".
Separately, Justice Minister Chris Grayling revealed in July that he had seen evidence of overcharging by G4S on public contracts for the electronic tagging of criminals.
Grayling claimed that G4S - and its rival Serco - had charged the MoJ for tagging criminals who were dead, still in prison, or where no tag had actually been put on the offender. The SFO is investigating.
Buckles was replaced by Ashley Almanza, who had been the G4S chief financial officer for just three weeks before his promotion.
At a shareholder meeting, Almanza said one of his "principal objectives is to try and put the Olympics and some of the setbacks behind us".
He also hinted at cost-slashing and job cuts for G4S.
"Let me reassure you that while the short term outlook is challenging the underlying business and the medium and long term outlook remain very strong indeed," said Almanza.
"We are putting in place a number of business improvement plans to strengthen margins in 2014 and 2015."
The G4S UK Chief Executive Richard Morris resigned in October, but the firm would not say why he left a position he had held for only a year.
Morris had been at G4S for more than a decade and was managing director of electronic monitoring at G4S Care & Justice Services before his promotion in October 2012.