Forget ejector seats and Rolexes with lasers hidden in the face, the real-life Q designed and built gadgets to help Second World War soldiers escape from behind enemy lines.
A catalogue of ingenious gadgets used by British troops to escape from prisoner of war camps is to go under the hammer at Bonhams auction house.
The gadgets include tiny compasses concealed in gold teeth and coat buttons, maps printed on to silk which could be hidden inside a pack of playing cards, and uniforms that could be tucked and folded into business suits.
Inventor and real-life 'Q', Christopher Clayton-Hutton, an intelligence officer for MI9, a secret department of the War Office, put the catalogue together.
In November 1942 a group of American intelligence officers travelled to Britain to study MI9 techniques and operations, especially the production of maps on silk. Each officer was given a copy of the 79-page catalogue entitled Per Ardua Libertas (Liberty Through Adversity) to commemorate their visit.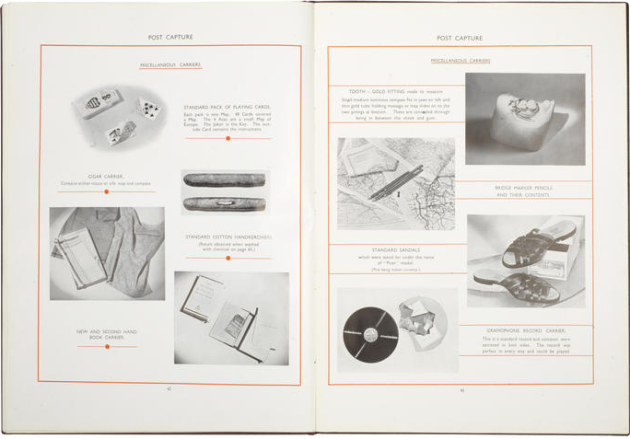 MI9 provided British troops with life-saving equipment that looked like everyday objects which could be smuggled with food parcels into PoW camps like Colditz or Stalag Luft 3, where some troops escaped through a tunnel, a story told in the Steve McQueen film The Great Escape.
An estimated 400,000 maps were printed during the war and about 17,000 Allied troops used them to escape and navigate their way back to safety; the book details a handkerchief with a map printed on it which is only revealed when washed.
Other James Bond-style gadgets described in the book include cameras disguised as cigarette lighters and concealed hacksaws to help soldiers escape.
The catalogue is one of less than 100 copies printed and will go under the hammer at the Gentleman's Library Sale in Knightsbridge, London on 30 January, where it is expected to sell for £500-£800.
The lot consists of two copies of the book, and they appear to be the proof copy and a presentation dummy for the final volume, according to Bonhams.