Samsung had recently been accused of manipulating performance benchmarks by allegedly over-clocking its hardware while running benchmark apps. The electronics giant denied the accusations but some critics jumped to the conclusion that the benchmark results portrayed by Samsung's Galaxy S4 were faked, as they did not reflect the real-life performance of the device.
Consequently, it was ascertained that almost all smartphone manufacturers had deceptively employed the tactic of pushing the hardware to its limits during benchmark tests. The quest for fairer and more transparent benchmarks has paved the way for an uncheatable gaming benchmark called "GameBench", whose founders are former employees of ARM and MediaTek chip companies.
GameBench reportedly portrays the true gaming potential of a device, regardless of its make, model or hardware configuration. For instance, despite Galaxy S4's faster processor, HTC One comes close in a couple of benchmark scores against Samsung's flagship phone.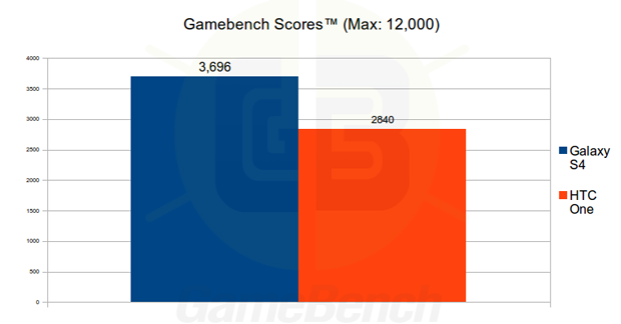 According to Engadget, Galaxy S4 and HTC One were subjected to a series of game benchmarks via GameBench such as Despicable Me - Minion Rush, Real Racing 3, Deer Hunter 2014 and Dead Trigger. In other words, the scores pertaining to frame rate and amount of battery drain were recorded separately while playing the actual game with the GameBench app running in the background.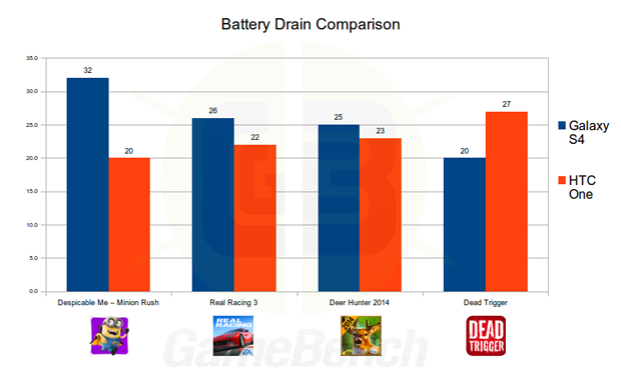 Galaxy S4 was found to drain the battery quicker than the HTC phone, while delivering faster frame rates across all four games. Quite surprisingly, the S4 consumed less battery power than HTC One while playing the Dead Trigger which showed similar benchmark scores for both smartphones.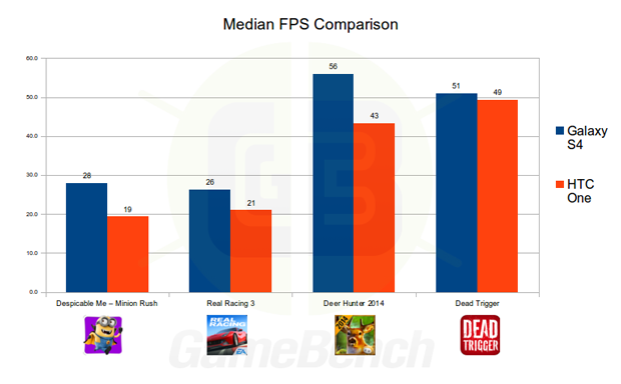 In Minion Rush, the Galaxy S4 secured 28 frames per second (fps), while the HTC One lagged far behind at just 19fps. A graphically intensive Real Racing 3 produced a close contest with S4 scoring 26fps and HTC One securing 21fps.
As SamMobile reports, the differences in frame rates can be attributed to how a game is optimised for a particular device (for instance, Dead Trigger delivers near identical frame rates for both the S4 and HTC One). The reason for producing identical frame rates is attributed to highly optimised games, which effectively narrows the performance gap between over-clocked and under-clocked processors in real-world tests.
The Galaxy S4 holds an edge with its slightly over-clocked processor (1.9GHz) than the HTC phone (1.7GHz), though both the devices run on the same Snapdragon 600 chipset. The benchmark results suggest that Samsung devices are capable of delivering top-notch performance even in real-life tests, which is indicative of its high benchmark scores in gaming.